Senate to review fusion center plan to deter Russian cyberattacks
Members of the Senate Intelligence Committee said they would consider plans offered by a Obama administration official to fight back against Russian aggression in cyberspace.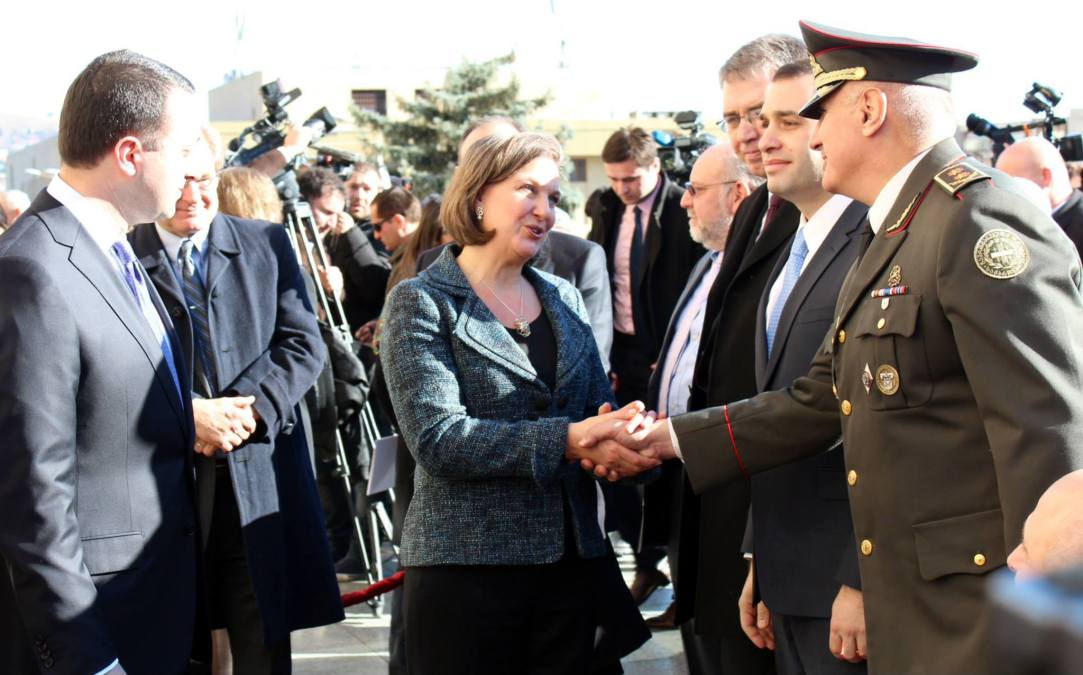 Members of the Senate Intelligence Committee said Wednesday they would consider plans offered by a Obama administration official to fight back against Russian aggression in cyberspace.
Victoria Nuland, a former U.S. ambassador to NATO, told lawmakers that it would be pragmatic for the country to consider a new "fusion center" to deter foreign election meddling similar to what occurred in 2016.
The approach Nuland described would look like the counterterrorism model pursued by the U.S. government in the aftermath of the Sept. 11, 2001 terror attacks.
"On the President's direction and with Congressional support, the Trump Administration could immediately establish a multi-agency Fusion Center, modeled on the National Counter Terrorism Center [(NCTC)] but smaller in size, to pull together all the information and resources of our government to identify, expose and respond to state-sponsored efforts to undermine American democracy through disinformation, cyberattack, and abuse of the internet," Nuland said.
Senior U.S. intelligence officials say the Russian government was behind an expansive and coordinated plot to interfere with the 2016 presidential election. Since then, investigators have exposed Russia's use of hackers, digital propaganda and foreign investment to meddle in U.S. politics.
Sens. Richard Burr, R-N.C., James Risch, D-Idaho, and Angus King, I-Maine, spoke of possibly pursuing the model in the future.
"I want to go to your first recommendation, which is a fusion center. It seems to me that one of the problems with that response to cyber generally is the lack of a central focus," said King. "I believe it should be a person, not just a fusion center, who has overall responsibility … that was one of our problems early on, was it not, that we had all this data coming in from FBI and NSA and various places and we didn't have a full picture of the magnitude of this attack."
"I hope you'll stay involved with the committee as it relates to future policies, which I can assure you, Miss Ambassador, will be on the table," Burr said.
Founded in 2003 with the mission of collecting and analyzing intelligence about terrorists, the NCTC carries a checkered history.
It was renamed from the Terrorist Threat Integration Center (TTIC) and placed under the Office of the Director of National Intelligence (ODNI) in 2004. In the beginning, the TTIC was built to ensure better information sharing inside government. A 2013 federal review showed intelligence agencies hadn't effectively coordinated on the Al-Qaeda threat in the years before the Sept. 11 attack.
In 2012, former Attorney General Eric Holder secretly granted NCTC the authority to collect and analyze data collected on U.S. citizens in order to detect suspicious activities related to terrorism. But that decision also drew subsequent criticism related to mass surveillance after it was revealed by journalists.
Nuland's plan would bring together specialists from the U.S. intelligence community, Department of Justice, Department of State, U.S. Treasury and other federal agencies in order to foster collaboration and share insights.
The agencies combined into a single shared entity would help decision makers understand "how dirty money and criminality often fuel these [election meddling] activities, and with tools to help with deterrence," she explained.
In 2014, Nuland herself became a victim of Russian hacking operations. Russian spies reportedly snooped on and leaked audio from a private phone call between Nuland and the then U.S. ambassador to Ukraine where she's heard saying "F— the EU." The incident became an embarrassment for Washington as it hoped to manage a Ukrainian regime with close ties to the Kremlin.
Though then President Barack Obama declined to fire Nuland for the incident, the episode became a timely reminder of Russia's cold war tactics.