How the French fiber optic cable attacks accentuate critical infrastructure vulnerabilities
The apparent act of sabotage is being investigated as a criminal matter, including by the French internal intelligence service.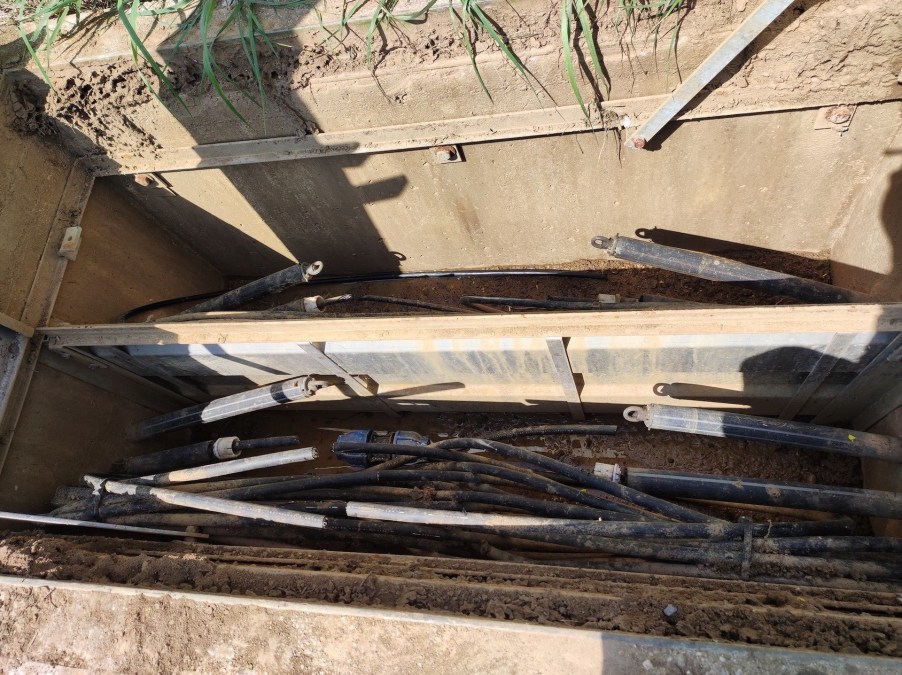 The pictures show neatly trimmed fiber optic cables dug up from underground behind what appears to be a well-hidden grate. The apparent simplicity of the sabotage is all the more harrowing in light of how extensively it disrupted Internet service in France, experts said.
A day after what French telecom companies are calling a large-scale coordinated attack which destroyed a large number of fiber optic cables powering the French internet, authorities there are investigating the attacks as a criminal act.
The Wednesday incident disrupted Internet service throughout France, and those responsible seem to have known how to do as much damage as possible. The Associated Press reported that the French internal intelligence service has joined the investigation, a development which it called "unusual."
"The cables were cut on both sides to complicate the repairs," an 'operator' told newspaper Le Parisien. "The urgency is to re-solder everything, this represents tens of thousands of small, fibre-optic cables."
American officials are doubtlessly taking note of the attack, according to Bob Kolasky, who recently served as director of the Cybersecurity and Infrastructure Security Agency's National Risk Management Center, where he worked from 2018 until March.
Kolasky said the coordinated attack appears "to be more significant than anything we've ever seen."
He also said that fiber optic cables are not easy to protect from sabotage given the high number of them.
"When you think about the attack and the amount of fiber optic cable that's out there, it would be hard to protect," said Kolasky, who is now a senior vice president at the tech company Exiger and senior fellow at the McCrary Institute for Cyber and Critical Infrastructure Security at Auburn University. "This is a target that is not that hard to go after."
Kolasky said many telecom companies in the United States have "built resilience" into their fiber optic cable systems so that an attack akin to what happened in France would not be as destructive as it otherwise might be. But he said there is more work to be done, particularly with vulnerable undersea cables which power large numbers of systems.
"It's something we were working on a lot [at CISA] and that the administration continues to work on a lot," Kolasky said regarding the vulnerability of undersea cables.
As society enters a future of hybrid war — meaning war on the physical battlefield paired with information and cyberwarfare — it will be critical to focus on better protecting critical infrastructure like fiber optic cables, Kolasky said.
Kolasky emphasized that he has no inside track on what happened in France, but said the fact that the attack occurred amid the Russia-Ukraine conflict can't be ignored.
"Given what's going on with the larger conflict with Russia, you have to be a little bit paranoid this is a case of Russian aggression," Kolasky said. "Events like this will get the attention of the White House and the agency and security professionals because we're just worried about escalation potentially affecting critical infrastructure."
The attacks riveted Europe, attracting attention from the likes of Ciaran Martin, the founding head of the National Cyber Security Centre, part of the U.K.'s Government Communications Headquarters. Martin, now a professor at Oxford, tweeted about the attacks Wednesday, calling them "extraordinary."
Scholars and disinformation experts also have focused on what happened in France and the close proximity both to the defeat of far-right nationalist candidate Marine Le Pen — who has praised Russian President Vladimir Putin for years — and the conflict in Ukraine.
Marek Posard is a military sociologist at the RAND Corporation who researches how to counter disinformation. Posard's research has documented how foreign adversaries, including Russia, have tried to covertly insert themselves into elections.
"My concern is that adversaries might target fringe groups — who are already ginned up following a contentious election in France — with the hopes that some of these fringe groups will launch attacks on their own country," Posard said via email, referring to the fiber optic attacks.