Former Marine, cyber exec Nate Fick selected as State's inaugural cyber ambassador
Also an author, Fick spoke at the 2008 Democratic National Convention.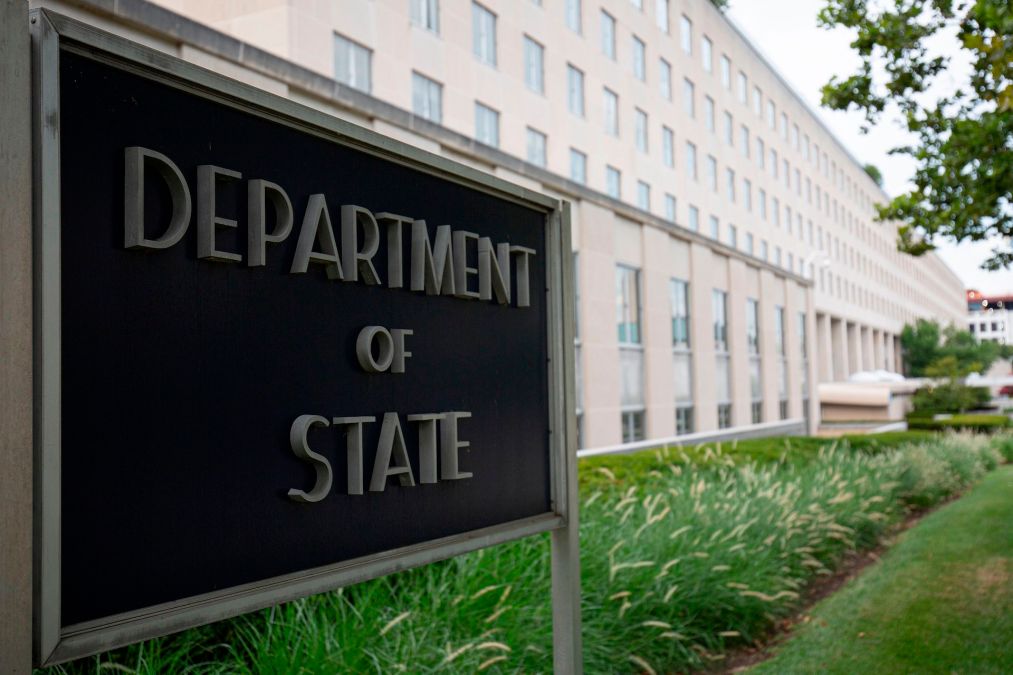 The cybersecurity executive, former Marine and author Nathaniel Fick has been selected as the State Department's inaugural Ambassador-at-Large for Cyberspace and Digital Policy, three sources with knowledge of the decision told CyberScoop.
Fick would lead the State Department's Bureau of Cyberspace and Digital Policy, launched in April, to focus on enhancing the Biden administration's effort to provide digital aid to allies as well as American leadership in setting global cyber standards.
Fick is politically well-connected and spoke at the 2008 Democratic National Convention in support of then-President Barack Obama and Vice President Joe Biden. He now serves as general manager of information security for the Internet search company Elastic, which builds self-managed and Software as a Service offerings for search, logging, security, observability and analytics use cases.
Fick previously served as the CEO of Endgame, a cybersecurity software company, from 2012 through its acquisition by Elastic in 2019.
The White House did not immediately return calls and emails seeking comment. A State Department spokesman declined to comment on Fick's selection but offered information about the new bureau. Fick, reached via an email alerting him to plans to report the story, also declined to comment.
One of the three sources with knowledge of the decision said that Fick was still being vetted as recently as a couple of weeks ago and that the appointment could still fall through, pending President Biden signing off.
A former venture capitalist, Fick also spent four years as CEO of the Center for a New American Security think tank in Washington, D.C. He began his career as a U.S. Marine Corps infantry and reconnaissance officer and completed combat tours in Afghanistan and Iraq.
Fick wrote a New York Times best-selling book about the experience, "One Bullet Away: The Making of a Marine Officer." He was also a major character in the book "Generation Kill," which went on to become an HBO miniseries. "Generation Kill" focused on Fick's platoon, the Marines of Bravo Company, 1st Reconnaissance Battalion, and their experience on the front lines of the invasion of Iraq.
The State Department issued a statement on April 4, which said the new agency "will address the national security challenges, economic opportunities, and implications for U.S. values associated with cyberspace, digital technologies, and digital policy." Politico was the first to report on many details of the bureau's formation, which it said would be populated by combining and reforming three existing teams and bolstered with 50 additional staffers.
Fick will have the rank of ambassador-at-large if he is confirmed by the Senate. Career diplomat Jennifer Bachus now leads the bureau as a principal deputy assistant secretary and Michele Markoff, who has worked on cyber issues for State since 1998, now leads the cyberspace security team.
"The establishment of the CDP bureau is a key piece of Secretary Blinken's modernization agenda and his plans to build a State Department ready to meet the challenges and opportunities of the 21st century," the spokesperson said in a statement. "The Secretary is committed to creating durable structures within the Department to lead on cyber and tech for the long term."
The former State Department coordinator for cyber issues — then the department's highest-ranking cyber official — Christopher Painter told CyberScoop via text message that the new bureau has a significant mandate.
"The U.S. virtually created cyber diplomacy and led the world on this important topic," said Painter. "The new bureau signals to both our friends and adversaries that the U.S. is reclaiming this leadership role and given the threats and challenges we are seeing in cyberspace, not a moment too soon."
Fick's political connections were in evidence in 2008, when he advocated for then-Democratic presidential candidate Barack Obama as a member of the Next Generation Veterans coalition, a group that held a uniquely important position in the former president's election battle against decorated veteran and former prisoner of war Sen. John McCain.
"When all this is over, I hope we will have done two things: elevated the national-security discussion above simplistic one-liners about victory or defeat and helped to end the fiction that only Republicans can talk about defense in a credible way," Fick told GQ magazine at the time.
In his DNC speech, Fick drew heavily on his experience as a combat veteran.
"My Marine platoon landed in Afghanistan in 2001," he said. "I will never forget one dawn after a vicious gun battle … I turned to see a small American flag hanging from an antenna. For a second it reminded me of the line we all know so well 'and our flag was still there.'"
Fick went on to say that he registered as a Republican when he was 18 and voted for McCain in 2000.
"It took seven years of hard experience to get me on this stage, but we cannot afford more of the same," Fick continued. "That is why we need Barack Obama and Joe Biden to lead us beyond the tired divisions of the past."
A graduate of Dartmouth College, Fick holds an MPA from Harvard Kennedy School and an MBA from Harvard Business School.