How Michael Flynn helped cybersecurity firms before his White House stint
Lt. Gen. Michael Flynn used his public sector connections to advise and guide multiple private sector cybersecurity firms into federal markets worldwide prior to his national security adviser appointment by President Donald Trump.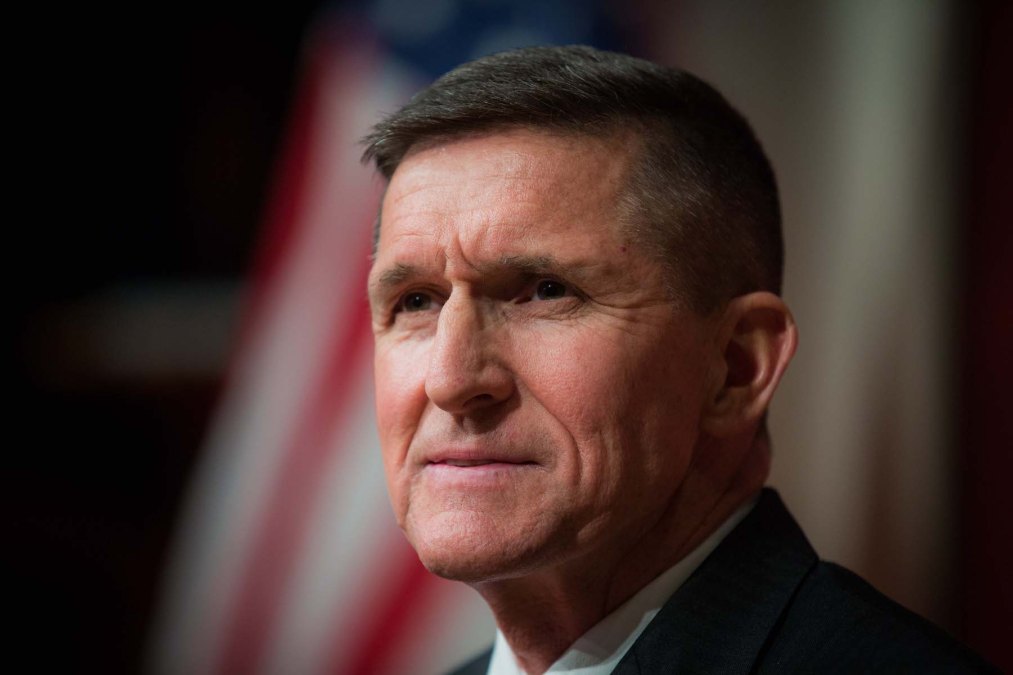 Prior to his short-lived term as national security adviser to President Donald Trump, retired Lt. Gen. Michael Flynn assisted private sector firms in building their connections with governments around the world.
Flynn offered consultation services and guidance while serving on either the advisory council or the board of directors for at least four private sector cybersecurity firms, including Palo Alto Networks; GreenZone Systems, which is now Saife; Halo Privacy; and OSY Technologies, an organization connected to Israeli cyberarms dealer NSO Group.
While his involvement with these companies is not particularly surprising — given that it is common for retired military officials to join corporations to help build relations with the Defense Department — Flynn's reach into the quickly growing industry is noteworthy. The cybersecurity companies Flynn worked with may have benefitted from his expertise, but they now face potential negative public exposure while Flynn remains at the center of a major congressional investigation.
Flynn, according to his Public Financial Disclosure Form, held at least 11 positions among various companies in the private sector within 12 months of Jan. 22, 2017, the eventual date of his appointment as Trump's national security adviser.
Flynn terminated his positions at nearly all of these companies in late 2016 when Trump named him as a top aide, according to disclosure forms. The only two positions he stayed on with were at his own company, Flynn Intel Group, where he served as Chairman and Board member. Flynn Intel Group was also the only company in which Flynn served as anything other than an adviser, a board member or a council member.
Playing the private sector
Halo Privacy, OSY Technologies, GreenZone Systems and Palo Alto Networks all utilized Flynn at some point between 2014 to 2016.
Halo Privacy's CEO, L. Kevin Kelly, declined to comment, as did other partners at the company regarding Flynn's involvement. While Flynn's disclosure form notes that he was on the board of directors from October of 2015 to December 2016, a press release from Halo Privacy announced his arrival in March of 2016, nearly five months later. Based in Seattle, Halo Privacy provides cyber communications and security consulting services to health care, finance, legal and government enterprises.
Flynn was hired by Halo Privacy to help the company reach federal clients.
"We are thrilled to have Mike Flynn on our board. His long Army career and special expertise in intelligence, counter-terrorism and cyber-security make him an ideal spokesman for Halo's capabilities," Kelly stated in a 2016 press release. "Having Mike on our board is the strongest possible signal to the marketplace of Halo's commitment to support Federal sector secure communications requirements and to making that same elite grade secure communications product and tradecraft available to the commercial sector.
In 2016, Flynn received $40,280 in salary from OSY Technologies, a subsidiary of NSO group, for his work as an Advisory Board member. OSY Technologies could not be reached for comment. Co-founder and current director of NSO Group Omri Lavie declined to comment.
As a brand, NSO Group gained notoriety last year when security researchers discovered the company's malicious surveillance software mysteriously installed on the smartphone of a Middle Eastern human rights advocate.
While representing NSO Group, Flynn was also paid by Palo Alto Networks. NSO Group is currently rumored to be on sale for $1 billion.
Palo Alto Networks is a network and enterprise security company based in Santa Clara, California, that offers a "next-generation" security platform designed to provide security solutions for the public and private sector. According to disclosure forms, Flynn received $40,280 in consulting fees as a member of the Palo Alto Public Sector Advisory Council from September 2014 to December 2016, though Palo Alto Networks told CyberScoop that Flynn only served until October 2016. During that timeframe, Flynn received an equity stake in the company.
Another member of Palo Alto Network's Public Sector Advisory Council, who served while Flynn was active, downplayed the group's significance.
The role of Palo Alto Network's Public Sector Advisory Council is "not unlike the role that a lot of former government officials take when they take on consulting roles," Advisory Council member Teri Takai told CyberScoop. "It's more to be a sounding board, so it's to understand the products and there may be an area where we get a question like 'does this sound like it would be something that this government or organization might be interested in."
Flynn resigned from another company, GreenZone Systems, around the same time he left Palo Alto Networks.
GreenZone Systems, which was acquired by Saife, Inc. on April 27, 2017, did not pay Flynn for his work on their Board from November 2014 to December 2016, according to disclosure forms. Flynn "provided his counsel and guidance on public sector business opportunities for secure communications technology within the U.S. Department of Defense and the U.S. Interagency Community," according to a statement sent to CyberScoop by GreenZone.
Flynn was likely motivated to work for GreenZone Systems due to his relationship with a company executive.
GreenZone Systems was led by Bijan Kian, a former Vice Chairman of the Board of Directors at Flynn Intel Group and an aide on Trump's presidential transition team. Kian did not register or plan to register as a foreign agent with the transition team, which has caused increased strife into the investigation of Flynn's complex web of foreign ties.
Flynn was appointed to the position of national security adviser by then President-elect Donald Trump in January, but resigned on Feb. 13 when it was revealed that he misled Vice President Mike Pence about phone calls he had with Russian Ambassador to the U.S., Sergey Kislyak, on the subject of easing sanctions against Russia.
The Department of Justice informed the White House of the incomplete accounts of the conversations, and thus the opportunity for Russian blackmail towards Flynn, but the White House did not act on those warnings, according to the New York Times.
In addition to advising several cybersecurity firms, Flynn advised other unique technology companies, including Brainwave Sciences LLC, a Boston-based company formerly run by an ex-KGB affiliate that sells an honesty-testing device supposedly reliant on brainwave interpretation.
Chris Bing contributed to this report.