Why did President Trump mention CrowdStrike to the Ukrainian president?
President Donald Trump appears to have asked Ukraine's President to search for a server linked with the 2016 breach of the Democratic National Committee, a breach CrowdStrike helped to investigate.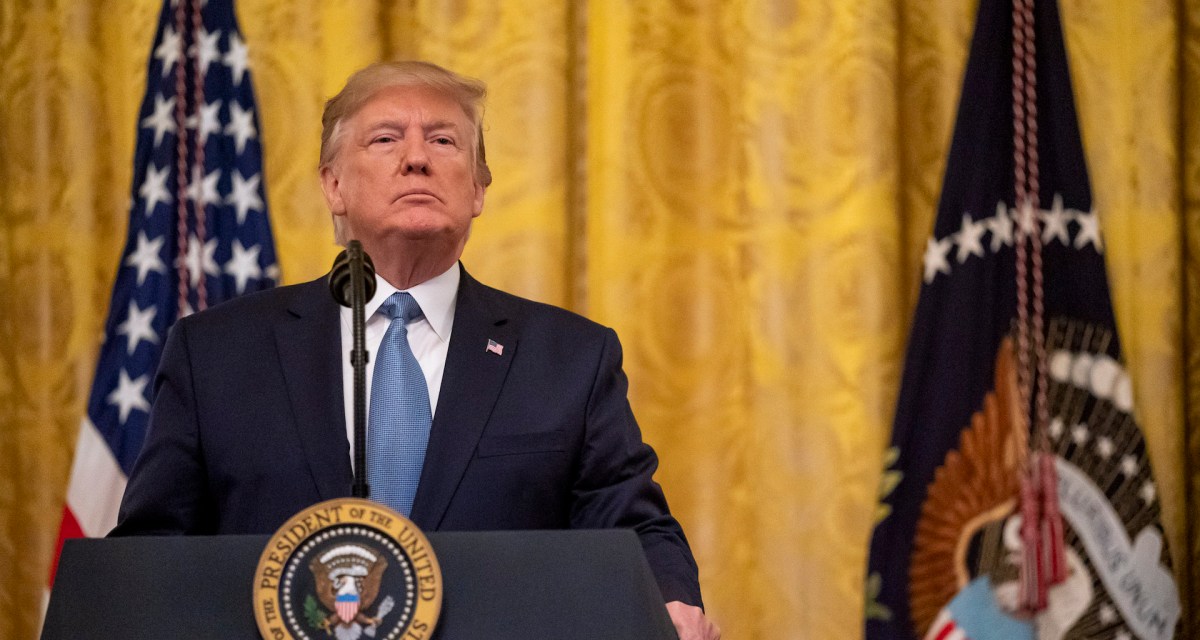 During a controversial phone call between President Donald Trump and Ukrainian President Volodymyr Zelenskiy in July, Trump asked Zelensky for a "favor" to help locate a "server" linked with security company CrowdStrike, according to an unclassified transcript of the call released Wednesday.
"I would like you to do us a favor though because our country has been through a lot and Ukraine knows a lot about it. I would like you to find out what happened with this whole situation with Ukraine, they say Crowdstrike … I guess you have one of your wealthy people … The server, they say Ukraine has it," Trump said, according the document released by the White House. "I think you're surrounding yourself with some of the same people. I would like to have the [U.S.] Attorney General [William Barr] call you or your people and I would like you to get to the bottom of it."
It appears that Trump asked Zelenskiy to search for a server linked with the 2016 breach of the Democratic National Committee (DNC) — an incident which California-based CrowdStrike helped to investigate. CrowdStrike famously attributed the breach to two Russian advanced persistent threat (APT) groups known as Cozy Bear, or APT29, and Fancy Bear, or APT28.
In a whistleblower complaint filed last month, a whistleblower alleges much of the same, according to an unclassified version of the complaint.
Trump asked Zelensky to help in "uncovering that allegations of Russian interference in the 2016 U.S. presidential election originated in Ukraine, with a specific request that the Ukrainian leader locate and turn over servers used by the [DNC] and examined by U.S. cyber security firm CrowdStrike," the whistleblower wrote.
Trump has long alleged a DNC server is "missing," a theory which appears to be based on a conspiracy theory peddled in right-wing circles that CrowdStrike was involved in a cover-up of the DNC breach.
But in reality, there are no physical machines linked with the DNC breach that are actually missing. Instead of one server, there were actually more than 140 servers decommissioned by the DNC in June 2016, many of them cloud-based. This was done in an attempt remove the Russians from DNC systems, according to filings from the DNC's civil lawsuit against Russia and Trump's campaign. The DNC also removed and replaced software, including the operating systems, for more than 180 computers and rebuilt 11 servers.
"With regards to our investigation of the DNC hack in 2016, we provided all forensic evidence and analysis to the FBI," CrowdStrike said in a statement. "As we've stated before, we stand by our findings and conclusions that have been fully supported by the US Intelligence community."
"This is complete nonsense," DNC Communications Director Xochitl Hinojosa said. "Trump still hasn't accepted that Russia interfered in our election, and instead, is using a call with a foreign leader to push conspiracy theories. This is surreal."
The theory was amplified when Trump adviser Roger Stone's legal team alleged the 2016 hack was an inside job and that CrowdStrike tampered with the evidence to pin the activity on Russian hackers. Stone's legal team used this argument to claim of the U.S. government's warrants in the case were invalid.
Part of the theory alleges that CrowdStrike co-founder and CTO Dmitri Alperovitch is Ukrainian. Alperovitch was born in Russia and is a U.S. citizen. Alperovitch is a senior fellow at the Atlantic Council, which receives funding from the Viktor Pinchuk Foundation. Pinchuk, a Ukrainian billionaire, has previously donated to the Clinton Foundation, as previous reports have noted.
Trump indicated Wednesday that his personal attorney Rudy Giuliani is examining the origins of the Special Counsel investigation into Russian interference in the 2016 presidential election.
"Rudy [Giuliani] is also looking [at that] Russian witch hunt that turned out to be … phony nonsense … Where did this Russian witch hunt … start?" Trump said to reporters on the sidelines of the United Nations General Assembly meeting during a joint press availability with Zelenskiy in New York. "It was all nonsense. It was a total hoax … It was out of thin air," he alleged.
When Trump has referred to a "Russian witch hunt" and a "hoax" in the past he has been referring to accusations that he was involved with or behind Russian interference in the 2016 U.S. presidential election.
In mentioning a server, it is unclear if Trump was referring to Hillary Clinton's private email server, a question he has raised before. He has previously tweeted: "Where is the DNC server, and why didn't the FBI take possession of it? Deep State?"
Trump said Wednesday he thought it is possible Clinton's emails were in Ukraine.
Stone has been indicted for making false statements before congressional committees and has a history of spreading conspiracy theories online.
This is not the first time Trump has brought up the missing server conspiracy theory — he raised similar questions during his press conference with Russian President Vladimir Putin in July last year.
"You have groups that are wondering why the FBI never took the server," Trump said last year. "Why didn't they take the server? Where is the server, I want to know, and what is the server saying?"
The release of the Trump-Zelenskiy call comes as House Speaker Nancy Pelosi has opened an impeachment inquiry into Trump.
The White House did not immediately return request for comment.
Joe Warminsky contributed to this story.