DHS secretary says US faces 'a new kind of warfare'
DHS Secretary Alejandro Mayorkas said in a speech that the convergence of international and national threats is unprecedented.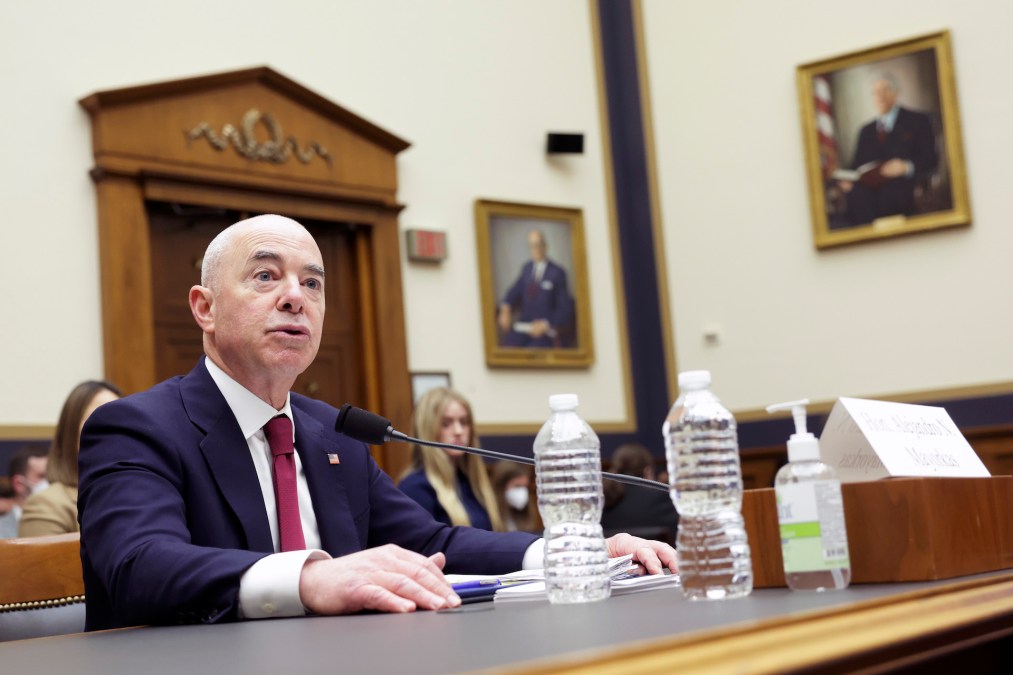 Secretary of Homeland Security Alejandro Mayorkas said national security and homeland security are now more interconnected than ever before, largely driven by the fact that U.S. adversaries can execute attacks "with a keystroke."
In a speech Monday, Mayorkas said that global interconnectedness and the willingness of nations to unleash digital attacks that have international ramifications has brought the national security threat "directly to our communities."
He pointed to several well-known cyberattacks that had global reach such as the NotPetya attack in 2017, and the Russian cyberattack against the U.S. satellite company Viasat at the start of the Ukraine war, saying that "our homeland security has converged with our national security."
"The world today is more interconnected than at any time in DHS's 20-year history," Mayorkas said at an event hosted by the Center for Strategic and International Studies. "Ubiquitous cutting-edge technologies, economic and political instability, and our globalized economy have erased borders and increasingly bring threats and challenges directly into our communities — to our schools, hospitals, small businesses, local governments, and critical infrastructure."
His remarks come amid growing reports of nation-state hackers hitting federal and private organizations alike. On Monday, the Secret Service pointed the finger to the Chinese-linked hackers APT41 for stealing at least $20 million in COVID relief benefits from multiple states, NBC News reported.
Mayorkas said that the U.S. faces "a new kind of warfare."
"With a keystroke, our adversaries can disrupt power or water to a small city, mine troves of American's personal data or steal intellectual property," Mayorkas said. "The means by which we address the myriad of cyberattacks which are growing in number and gravity are linked to our role and responsibilities on the global stage."
Mayorkas pointed to the Cybersecurity and Infrastructure Security Agency's Joint Cyber Defense Collaborative as at the "heart" of trying to solve the national and international threats. Mayorkas also pointed to the "Shield's Up" campaign and Cyber Safety Review Board as other examples.
The U.S. has seen a series of cyberattacks hitting critical infrastructure in recent years such as the Oldsmar, Florida, water attack where an unknown hacker attempted to release lye into the town's water system. Additionally, the Colonial Pipeline ransomware attack quickly brought the potential impact of a cyberattack on the economy after nearly half of the fuel alongside the East Coast was halted because of the attack.
"President Biden's National Security Strategy details the twin national security challenges of our time: countering shared transnational challenges and out-competing our rivals to shape the international order," Mayorkas said. "As the threats have evolved, the historical distinction between homeland security and national security challenges has blurred and the role of DHS has grown accordingly."
Mayorkas also touted the collaboration between the federal government and the private sector, nonprofits, academia, "and indeed, the involvement of every individual."
Mayorkas also countered the notion that CISA should be removed from DHS, saying that the agency is one of "partnership, information sharing, remediation" which is "very different than agencies that seek to achieve accountability on the part of the attackers, that work in the international domain, defensively and otherwise."