Cyber Command chief tells Congress chip shortage has national security implications
China's march toward chip independence is of "great concern" and could have "broader impacts," he said. It's an issue that dovetails with the Russia-Ukraine war.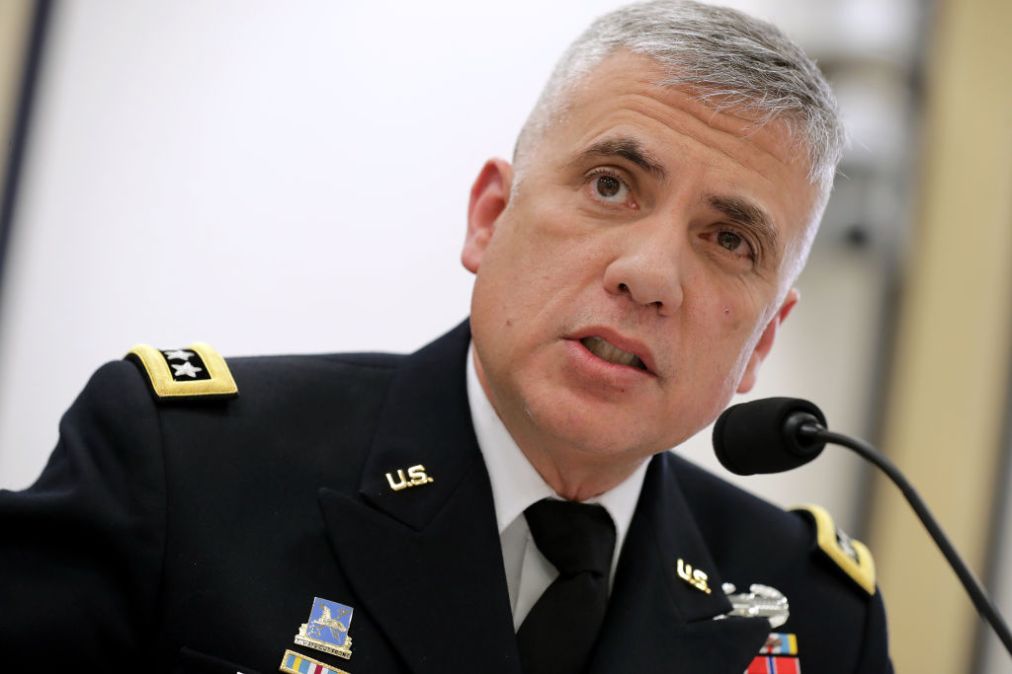 China's increasing progress toward producing enough semiconductor chips domestically to avoid relying on foreign trade is a "very timely question" and one of "great concern for us in terms of broader impacts," U.S. Cyber Command and National Security Agency head Gen. Paul Nakasone told House Intelligence Committee members this week.
China's increasing progression toward so-called chip independence — which, if achieved, would give the Chinese more leverage to act as they please without fear of sanctions — poses a threat, Nakasone told Congress Tuesday. Rep. Rick Crawford, an Arkansas Republican who sits on the Intelligence Committee, told CyberScoop that Nakasone's private remarks in a subsequent closed-door session made clear that American reliance on Russia and Ukraine for the neon gas needed to make chip component parts is among the "broader impacts" the general referenced.
The United States is lagging in domestic semiconductor chip production, while Ukraine and Russia produce 90% of America's neon gas supply and about half of the total global supply, said Sujai Shivakumar, senior fellow of the Renewing American Innovation Project at the Center for Strategic and International Studies. China and Japan are the other major producers. If America is forced to rely on hostile countries for chip production and is unable to get the components needed to manufacture them, it could have a powerful cascade effect.
"The financial war is as important as the shooting war so our entire economy, our markets, are predicated on semiconductor technology and our being in a leadership position on that," Shivakumar said. "That gives us the leverage that we are using in the financial war that we are undertaking right now."
Crawford didn't offer much detail about what was said in the closed-door session of the hearing, but did say that Nakasone's private remarks spurred a discussion of the national security implications of both America's semiconductor chip shortage and the potential for China to supply Russia with chips despite U.S. sanctions.
"We're just scratching the surface here on what we need to be doing and talking about with regard to our own national security in the context of chip independence," Crawford said in an interview.
Some experts suggested Russian President Vladimir Putin could even lash out with a cyberattack in response to economic sanctions from the West, especially new export controls blocking Russia from accessing advanced technologies like semiconductor chips.
Martijn Rasser, a senior fellow and the director of the technology and national security program at the Center for a New American Security, called the export controls an "extremely significant act of unprecedented economic statecraft" and said it is hard to predict "what all the second and third order consequences of these actions are going to be."
Russia has a "lot of leverage" using cyberattacks, Rasser said, but not much otherwise. And Russia desperately needs chips not only to achieve its high-tech goals but also to replace equipment it is losing on the battlefield.
"There's a lot of strain right now," Rasser said of Russia's economic position.
The semiconductor chip manufacturing issue has been amplified by government officials in recent days, with Commerce Secretary Gina Raimondo telling The New York Times Tuesday that if Chinese companies violate restrictions prohibiting exports to Russia, the U.S. will "essentially shut" down Chinese chip manufacturers.
Russia "is certainly going to be courting other countries to do an end run around our sanctions and export controls," Raimondo said.
Crawford —the ranking member on the Counterintelligence, Counterterrorism and Counterproliferation Subcommittee — said his public question about China controlling its own chip market "teed up" other questions Nakasone took up in the closed-door hearing. Crawford said he had to speak carefully to avoid disclosing classified information, but said the session made clear that national security officials must focus on "what's driving" the Chinese effort to be self-sustaining when it comes to chip production.
"The demand [to produce more chips] is not necessarily domestic for them," Crawford said in the context of a larger discussion about the growing closeness between Russia and China.
In recent years, as Russia's ties to the West have frayed, Russian President Vladimir Putin has moved closer to China and spoken more often of a "Eurasian" future.
Crawford said he believes China's interest in dominating chip manufacturing ties directly to its Belt and Road Initiative of massive infrastructure investment from Asia to Europe.
"The technology war is as relevant and as important as the nuclear weapons," Crawford said.
The House last month passed a bill which includes a proposed $52 billion in funding to boost domestic semiconductor chip production. But to become law it will need to be reconciled with a Senate bill which differs in many respects.
In the meantime, Russia is in control, experts say.
Paul Triolo, senior vice president for China and technology policy lead at the strategc advisory firm Dentons Global Advisors-Albright Stonebridge Group, said he believes Russia will "weaponize" its control over the neon gas — and to a lesser extent — the palladium it controls to push back against the economic sanctions.
Russia controls an estimated 35% of the world's palladium, an additional component part in chip manufacturing. The fact that the U.S. now relies on Russia and Ukraine for 90 percent of the neon gas it uses is a bigger issue, particularly since it is difficult to change suppliers quickly, Triolo said.
Triolo said he has spoken to several executives at semiconductor manufacturers in recent days and many have stockpile reserves of neon and palladium which could last up six to nine months.
"Ukraine is a really, really significant producer of neon so it may not be that easy to quickly switch suppliers, for example, because there's some purity issues around the gas," Triolo said. "It's not a commodity that can be substituted."
Triolo said the United States can begin ramping up its own production of neon gas, but the decision to do so will be driven by market forces and cost of production.
"Companies have to invest in the infrastructure to produce gas at scale and competitively," Triolo said. He added that if geopolitical forces compel American companies to create their own domestic sources of neon gas "there will be costly investments to make supply chains more resilient."