The company behind 'Time A.I.' is suing the company behind Black Hat
The drama surrounding the mocked presentation has made its way to the courts.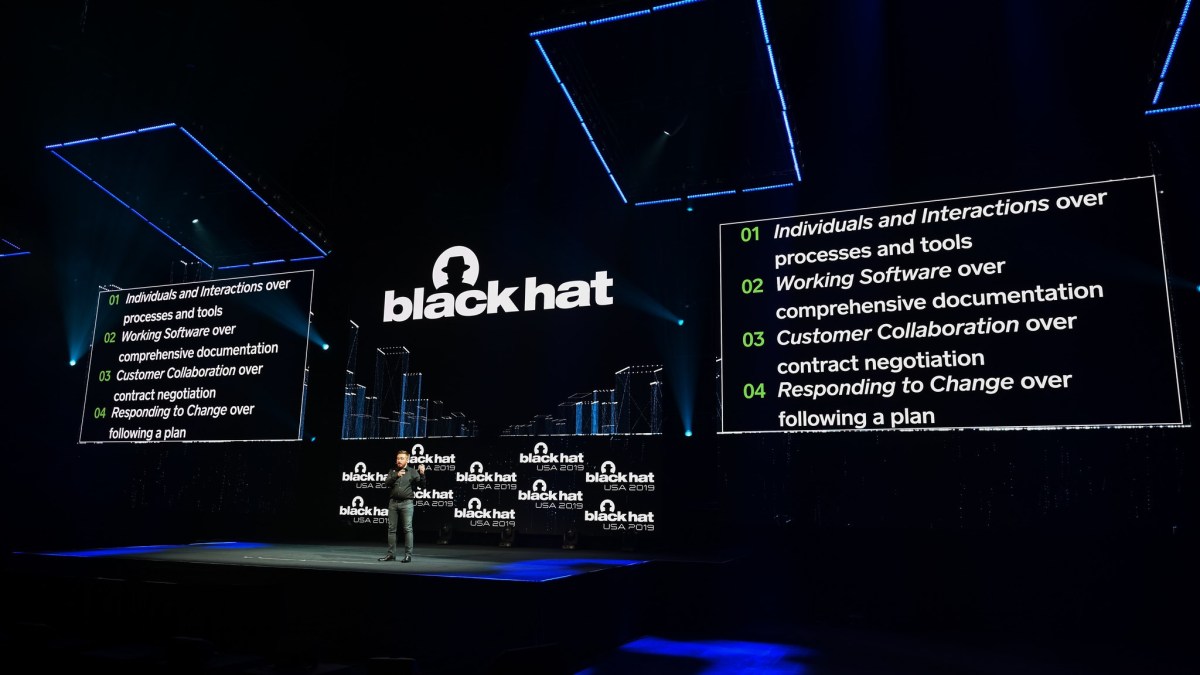 Makers of a security product that was roundly mocked earlier this month at the Black Hat USA conference are out for revenge against the researchers who scrutinized their technology.
Well, if not exactly those researchers, then…someone.
Crown Sterling, which describes itself as an "emerging digital cryptography" vendor, filed a lawsuit Thursday accusing UBM, which organizes the Black Hat conference, for alleged breach of contract in connection with a controversy over a sponsored talk delivered during the recent conference.
On Aug. 8, Crown Sterling CEO Robert Grant described "Time A.I.," a technology he claimed would upend the world of encryption with its use of "quasi prime numbers" and "infinite wave conjugations." Dan Guido, CEO of the consultancy Trail Of Bits, stood up toward the end of the presentation to say Grant "should be ashamed" of himself for hawking technology that others have described as bunk, and predicted Black Hat would remove the presentation from its site.
The disagreement quickly became a hot topic of conversation at the conference, and a video of the incident went viral through the security community.
In response to all the attention, Black Hat told PC Magazine it would remove Crown Sterling's content from its website as soon as possible and that organizers would "implement a stronger vetting process moving forward to avoid this happening in the future."
By Crown Sterling's logic, the disruption and response amounted to "defamatory smear campaign." The company also filed the complaint against 10 unnamed people, saying that Black Hat organizers colluded with attendees to interrupt Grant's remarks and then slandered the company after it paid $115,000 to be a "gold sponsor."
Black Hat had an obligation to be sure Crown Sterling, as a sponsor, "was treated only with respect and dignity," the company said in the complaint filed in the Southern District of New York.
During a brief interview with CyberScoop, in which he was asked to provide evidence that the conference proactively collaborated with the disruptive researchers, Joseph Hopkins, the chief operating officer at Crown Sterling, referred only to the complaint, adding Time A.I. offers "an exciting opportunity" as a cybersecurity product.
When asked for the specific language in the sponsorship agreement that prohibited Black Hat from changing its stance, Hopkins said only that Crown Sterling's lawyers had determined a breach of contract occurred.
It is unclear why Crown Sterling chose to sue UBM. British media and events company Informa purchased UBM in Jan. 2018 for $5.2 billion. Informa was the presenting company for the 2019 Black Hat USA conference.
Representatives for Black Hat declined to comment.
You can read the Crown Sterling complaint in full below.
[documentcloud url="http://www.documentcloud.org/documents/6329414-Crown.html" responsive=true]