Chinese surveillance giant Knowlesys pushes further into international market
After more than a decade of domestic success in China as a digital surveillance power, the internet and public opinion monitoring company Knowlesys now aims to push further into the international market.
After more than a decade of domestic success in China as a digital surveillance power, the internet and public opinion monitoring company Knowlesys now aims to push further into the international market.
Competing against U.S., Russian and Western competition more broadly, Knowlesys is slated to attend several major surveillance industry trade shows in 2017, including ISS World and Milipol in Europe and the Middle East, to make its sales pitch to potential public and private sector customers across Asia and Europe. It's a situation where "Made in China" carries a lot of weight among the purse-string set, given the company's customer list, which includes the Chinese military.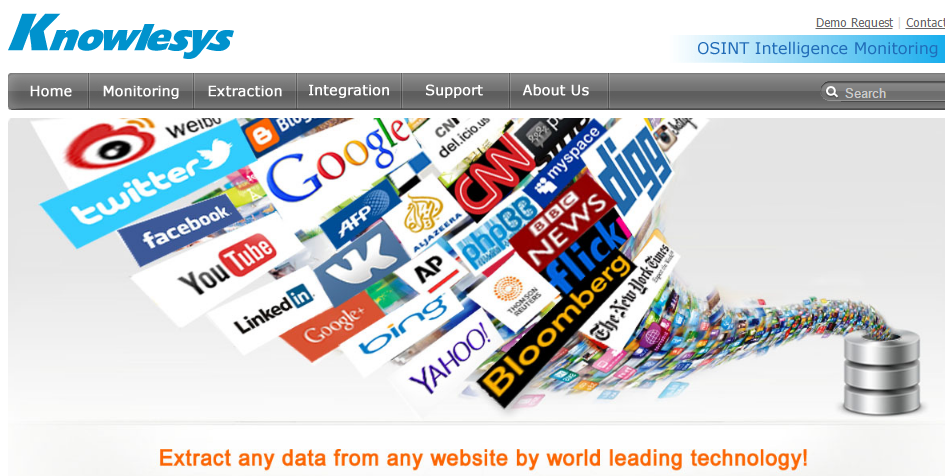 China is home to some of the most effective internet surveillance systems anywhere. Although "The Great Firewall of China" figures into the popular imagination as a looming monolith, it's a complex and multi-tiered system. One key facet is the close and deep monitoring of public opinion and open source content — including the kind Knowlesys offers commercially.
The surveillance industry trade shows where Knowlesys exhibits have grown rapidly over the last seven years, driven not only by technological advancement but also by a widespread fear of an Arab Spring repeating elsewhere, according to ISS World founder Jerry Lucas. Those protests and upheavals were driven in large part by the quick and innovative adoption of social media among new communities in the Middle East.
As a result, the ability to effectively monitor and analyze social media has tempted governments around the world, particularly in Asia, to buy products like the Knowlesys Web Data Miner System and Knowlesys Intelligence System.
Launched in Hong Kong in 2003 and now developed in Shenzhen, Knowlesys is an award-winning surveillance industry veteran. Although the name is barely recognized in the West, the product is used by major Western companies including Virgin Media and Chinese corporate behemoths like Alibaba and Sina. The company is used extensively to watch platforms including Twitter and Sina Weibo, China's leading microblogging service.
The Knowlesys Intelligence System (KIS) sells social media and open source internet monitoring and analysis tools to clients that include Chinese local governments, the national military, unspecified law enforcement and intelligence agencies as well as private sector giants from both the East and West. European and Middle Eastern clients of Knowlesys are less forthcoming and likely to leave public testimonials but the company says it provides services to at least one foreign central government.
"In March 2009, Knowlesys outperformed U.S. competitors to win the public opinion monitoring contract of a foreign central government," according to the company. "The final implementation and development took one and a half years."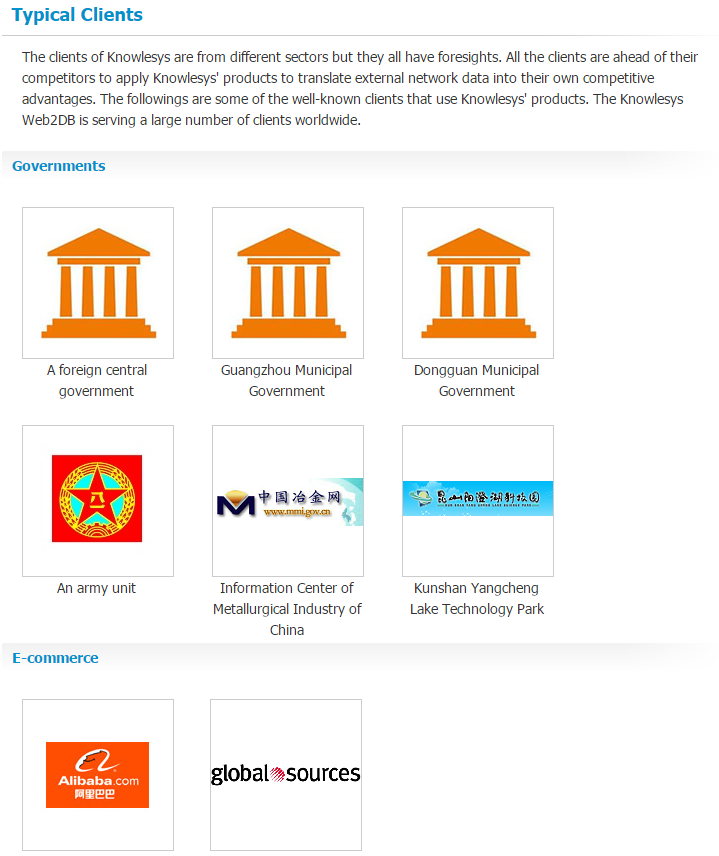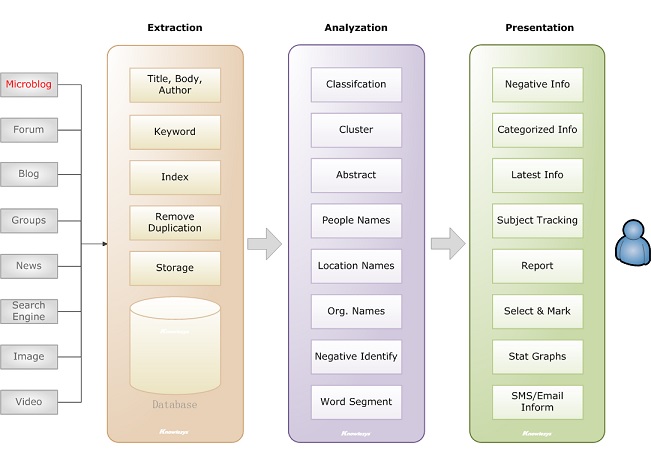 Advertising its public opinion monitoring products to governments, Knowlesys notes that social media "is driving profound changes to the ideology and social presence in China" that require government attention in order to quash rumors, mitigate "negative information" and end up improving overall governing capability.
Governmental customers use the Knowlesys Intelligence System (KIS) to censor websites and platforms. Boosting the company's increasingly global aspirations — and setting it apart from many of its competitors — Knowlesys is available in almost a dozen languages including Arabic, English, Chinese and Uighur, the language of western China's tumultuous and heavily surveilled Xinjiang Autonomous Region.
"Knowlesys Intelligence System can monitor all kinds of websites in real time such as BBS, microblog, blog, news review, post center, news, video, scanning them every a few minutes to ensure relevant information are entered into databases immediately," the company's marketing material boasts. KIS then spits out "rich analysis reports" that's attracted both glowing reviews from customers and sharp criticism from privacy activists.
Companies will watch everything customers say and do closely and in real-time. They're able to use the software to develop sales leads or watch conversation about the competition. Governments use the product more widely to watch anyone deemed worth watching by law enforcement and intelligence agencies.
Knowlesys did not respond to a request for comment.