Belarusian hacktivist group releases purported Belarusian wiretapped audio of Russian embassy
The release seems designed to drive a wedge between Russia and its close ally Russia.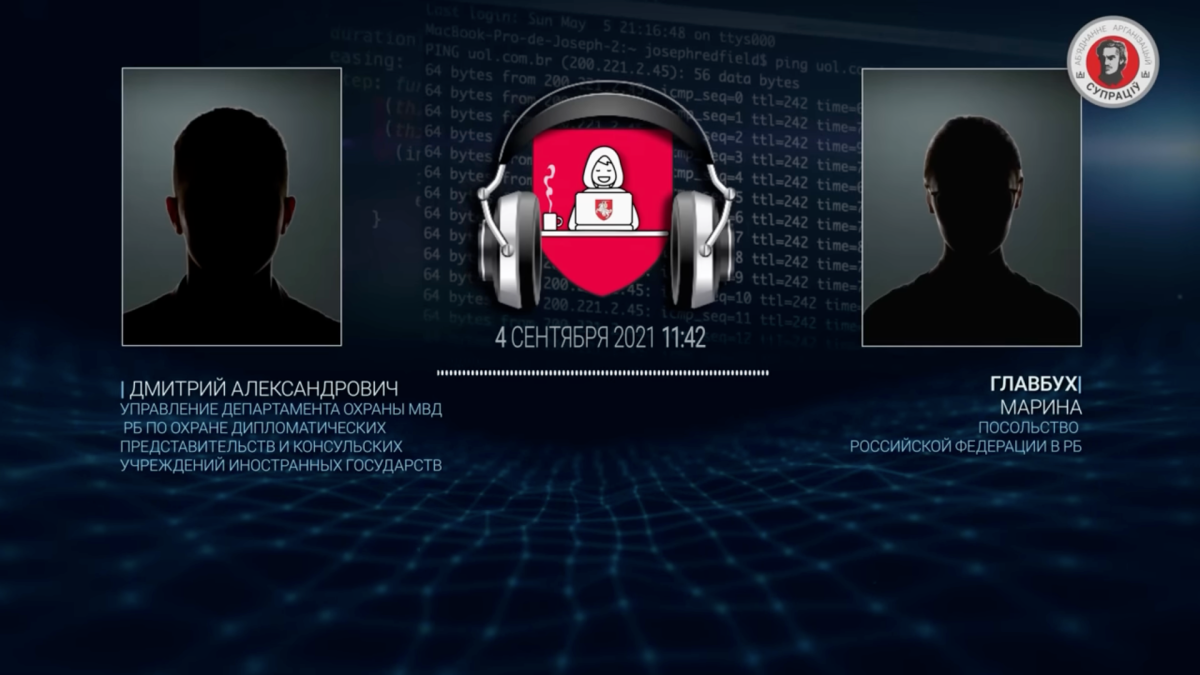 A Belarusian hacktivist group on Tuesday released what it says is wiretapped audio of foreign embassies, consulates and other calls in Belarus gathered surreptitiously by the Belarusian Ministry of Internal Affairs.
Announced in the Belarusian Cyber Partisans' Telegram channel late morning U.S. time Tuesday, the first release is a four-and-a-half minute long video posted to YouTube containing what the group says is audio of recordings captured from the Russian embassy and the Russian consulate sometime between 2020 and 2021.
The group said it is not publishing conversations in full and hiding some data about call participants "out of respect for the personal conversations of people who are not connected with the dictatorship in Belarus," according to a Google translation of the message.
An email sent to the Russian foreign ministry with a request for comment was not returned. The Belarus embassy in the U.S. did not immediately respond to a request for comment.
The group tweeted Tuesday that there "are still a lot of recordings of embassies and consulates of other countries. We will continue to reveal the Lkuashenka's regime's dark secrets. Many interesting leaks soon."
A representative of the group told CyberScoop through its Telegram channel that the Cyber Partisans have around 1.5 terabytes of voice calls, which they equates to roughly 50,000 hours. They said "most" of the calls are unrelated to embassies, and that among the phone numbers in the system "there are more than 22k orgs and 49k persons."
Belarusian President Alexander Lukashenko has been a steadfast ally of Russian President Vladimir Putin. He has allowed Belarus to not only serve as a way point and staging ground for Russian military assets deployed as part of the Russian war on Ukraine, but also taken a series of other steps to show loyalty to Putin. Hackers either based in Belarus or working as part of the Belarusian government have also participated in hacks against Ukrainian targets in conjunction with the Russian military effort, industry experts have said.
In December 2021 Lukashenko described the relationship between Belarus and Russia as "brotherly," a statement the Belarusian Cyber Partisans mocked Tuesday.
"The 'brotherly' state turns out to be not so brotherly after all," the group wrote in the description section of the YouTube video.
The Belarusian Cyber Partisans are a group of roughly two dozen or so former IT specialists and others with deep connections to the Belarusian government. Their stated goal is toppling Lukashenko and his regime which they say is responsible for horrific and ongoing human and civil rights abuses in Belarus by exposing corruption and other malfeasance.
In July 2021 the group claimed in its Telegram channel to have hacked the internal surveillance video system of the Ministry of Internal Affairs. "The resistance tells you that your internal systems are no longer internal and that you will stand trial in the new Belarus for your atrocities," the group wrote at the time, according to a Google translation. "All will be established — by divisions, by minutes, by name."
Shortly after the Feb. 24 Russian escalation of its attack on Ukraine, the Cyber Partisans claimed to have hacked the Belarusian rail system to slow Russian military equipment movement through Belarus, which borders Russia to the east and Ukraine to its south.