Women paid less than men at every level of cybersecurity industry, report says
Those diversity levels are the same rates seen in 2013 and point to proof of long-term stagnation in the industry's gender gap.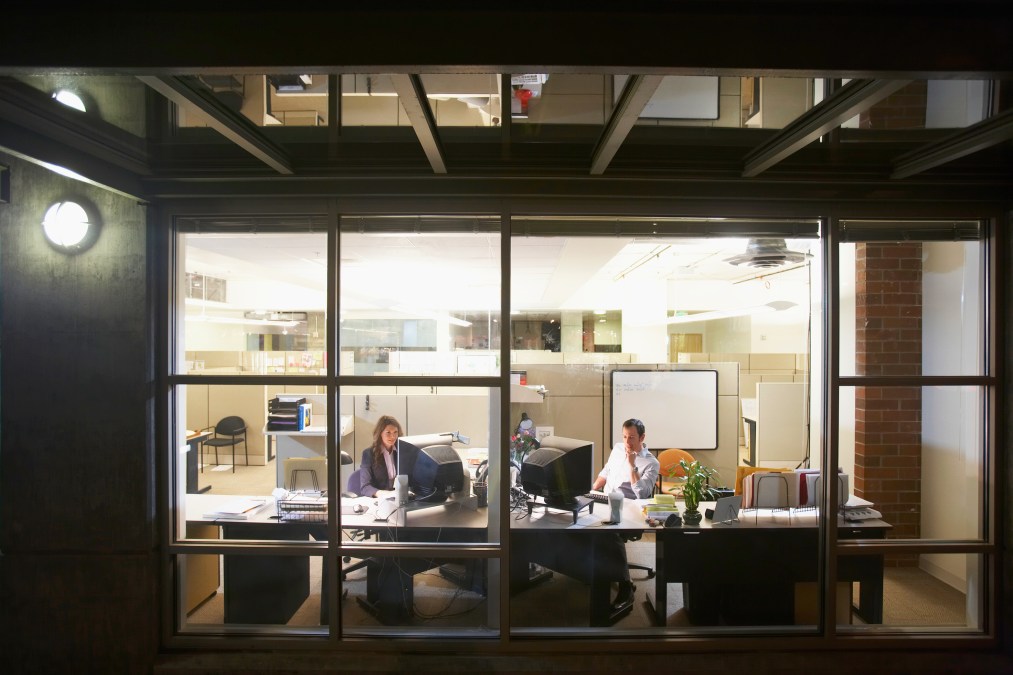 Women make up just 11 percent of the global cybersecurity workforce and earn less than their male counterparts at every level in the cybersecurity industry, according to newly released research from the 2017 Global Information Security Workforce Study.
Those diversity levels are the same rates seen in 2013 and point to proof of long-term stagnation in the industry's gender gap. The new study, sponsored by a stable of tech firms and authored by the research firm Frost & Sullivan, surveyed 19,641 respondents from 170 countries. Released coinciding with Women's History Month, its authors claim this is the largest study of the information security industry ever conducted.
The survey's findings, which echo other recent studies, bear out in detail the chasm that exists between men and women in cybersecurity. Men are four times more likely to hold executive-level positions and nine times more likely to hold managerial positions than women. 51 percent of female respondents said they'd experienced discrimination on the job.
The statistics do not widely vary across the world. In North America, the region with the highest female representation, women make up 14 percent of the cybersecurity workforce despite making up 48 percent of the overall workforce. In the Middle East, that number is five percent. In Europe, women's representation sits at seven percent.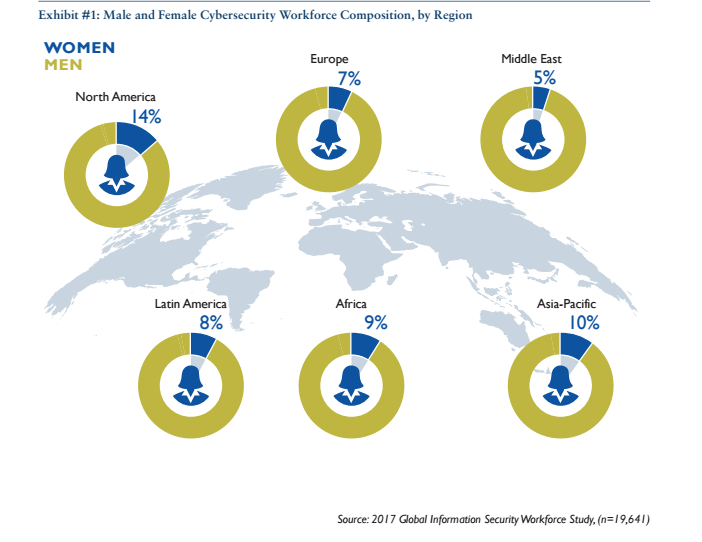 "Women in the cybersecurity profession enter the profession with higher education levels than men," the report reads. "Fifty one percent of women in the profession have a Master's degree or higher, compared to 45 percent of men. An examination of undergraduate degrees revealed that 48 percent of men hold computer and information sciences degrees versus 42 percent of women, a six percent difference. The technical degree gap widens further between men and women for engineering and engineering technologies, where 22 percent of men hold an undergraduate degree versus 14% of women."
All this comes as the cybersecurity industry faces a significant and sustained talent gap. There are simply not enough skilled workers to fill job openings. There is a projected workforce gap of 1.8 million professionals by 2022, a number that points clearly to the underrepresentation of women in the workforce.
On the wage gap front, the momentum is mixed but the research's results uniformly have women earning less than male counterparts. At the upper executive level, the gap fell to 3 percent from last year. At the non-manager level, however, it grew to 6 percent or $5,000.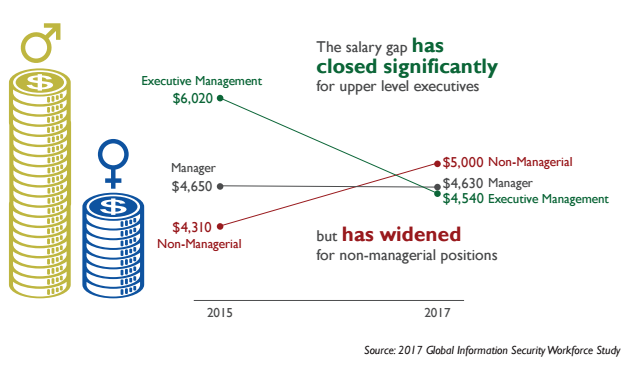 One 2015 study showed women's interest in cybersecurity careers had fallen dramatically.
"With increasingly sophisticated threats and the demand for security talent soaring, the cybersecurity field is one that absolutely cannot afford to neglect the population of women and the many talents they offer," Shamla Naidoo, global chief information security officer for IBM, said in a statement. "The security industry needs the best and brightest to remain ahead in the fight against cybercrime, and creating a workforce with diversity of thought, gender and backgrounds is essential to this goal."