Secretaries of State brace for wave of AI-fueled disinformation during 2024 campaign
"We know misinformation is going to be a hallmark of this cycle," said Michigan Secretary of State Jocelyn Benson.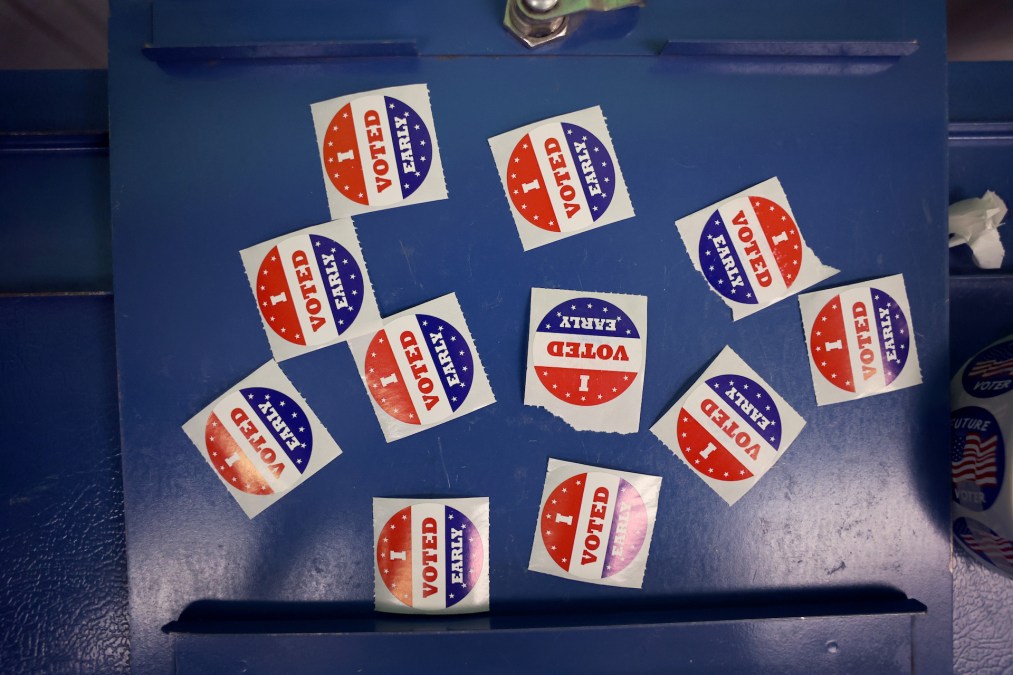 Secretaries of State are already preparing for election disinformation during the 2024 presidential campaign that will be supercharged by artificial intelligence, many of them told CyberScoop during the National Association of Secretaries of State Conference that's taking place this week in Washington.
As a result, they said they are taking unprecedented steps to confront misinformation and disinformation about the election they expect will come in the form of deepfakes and other AI-generated content that could be used to deceive or manipulate voters, a threat that has sparked serious concern from federal officials and election researchers as well.
"We have to get ahead of what's happening out there in terms of technology, and how that could affect democracy," said Washington Secretary of State Steve Hobbs (D). Washington this spring enacted a law requiring the disclosure of deep fakes in political ads, something other states may replicate. Hobbs says that there should be more responsibility put on social media companies that allow for AI-generated content.
"I think the newness of everything provides a lot of opportunities for malfeasance and mischief," said Michigan Secretary of State Jocelyn Benson (D), who also advocated for disclosure laws. "We all recognize the presence of AI and the cybersecurity umbrella of challenges that we're going to be encountering this cycle. Everyone is talking about it. Everyone is exploring solutions."
"There doesn't seem to be as of yet a bipartisan divide because we see it as a storm we all need to tackle," she added.
The rise of deepfakes and AI-generated misinformation coincides with a divestment by major companies such as Meta in resources to monitor election content, a reversal in previous years. A federal judge also recently upheld an injunction preventing the Biden administration, including the Cybersecurity and Infrastructure Security Agency, from discussing domestic disinformation with tech companies. CISA has acted as the main election defender and has in recent elections worked with social media platforms and states to counter voting disinformation.
Secretaries of state that CyberScoop spoke with had mixed reactions about the injunction.
"I can see the importance of trying to prevent misinformation from taking hold and being spread and at the same time there have to be real concerns about freedom of speech and infringing on that," said New Hampshire Secretary of State David Scanlan (R). "I think we have to develop a process to deal with that. And it has to be beyond just a single individual, or a single political party, or interested party making those decisions. It has to be an objective, unbiased review of the information with appropriate guidelines and appeals."
"I think it's important to not read too much into this," said Benson. "It cuts off a source of verification in some ways. But it doesn't take away responsibility from the social media companies."
Officials aren't just looking at new hurdles, however, but bringing lessons from 2020 and 2022 with them. A big priority for states is getting ahead of disinformation by educating voters and providing some transparency to how the process works. For instance, in Michigan Benson has launched a "Truth Tellers" task force comprised of community leaders ranging from church leaders to athletes to speak with voters about their concerns.
The task force will not only be essential in building trust before the election but afterward, too. She said that state secretaries were better prepared for pre-election misinformation in 2020, but vastly underestimated how much would come after the election
"We know misinformation is going to be a hallmark of this cycle," said Benson.
New Hampshire meanwhile launched a special committee on voter confidence with appointed representatives that toured the state listening to voters about their concerns about elections. The state has also given lessons on election infrastructure to groups with misconceptions about how elections work, said Scanlan from New Hampshire.
"I think it just comes back to making sure that voters are educated because a lot of the misinformation that is out there plays on parts of the election process that are not readily explainable," he said.