'Next generation' of Silicon Valley leaders more willing to work with feds, former Pentagon chief says
Ashton Carter, who was President Barack Obama's secretary of Defense, seemed to suggest that the complex relationship between national security agencies and the private sector has turned a corner in recent years.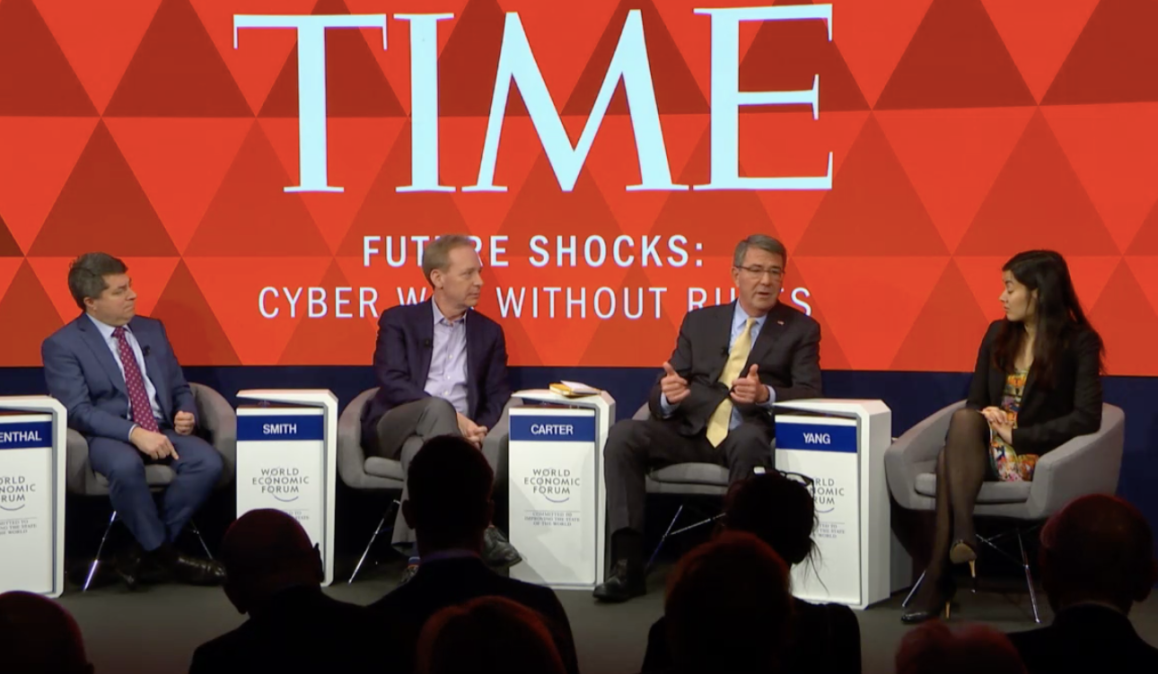 The U.S. government's ability to collaborate with the private sector on cybersecurity matters has improved in recent years in part because of better relations with the "next generation" of Silicon Valley leaders, according to former Defense Secretary Ashton Carter.
Carter, who spoke Friday as part of a panel at the World Economic Forum conference in Davos, Switzerland, said in broad terms that the federal government had been stifled from creating a safer internet because of a poor relationship with technology companies. He seemed to suggest, however, that the complex relationship between national security agencies and the private sector has turned a corner in recent years after a prolonged period of heightened tension spurred by Edward Snowden's 2013 disclosures of classified U.S. surveillance programs.
"The cyber world grew up in what we now call the tech environment, which was militantly independent of government. And that was a great culture in a lot of ways. I am a technologist myself so I understand and related to that. But it also meant that that particularly technological revolution took place essentially in an ungoverned way," he said. "And that is one of the reasons that has led to some of the vulnerabilities we have and the immature tradecraft in terms of protection and government response. And some resentment."
The Snowden case increased tensions between the cybersecurity community and the government, but "that's changing, fortunately," said Carter, who held the Pentagon's top job from February 2015 to until weeks before President Donald Trump's inauguration in January 2017.
"The next generation is much more understanding," Carter said. "Governments are getting more deft at interacting with the private sector, but we need to understand that we went through a couple decades of essentially Wild West in this area. And this is one of the legacies that we have to gather up."
Carter appeared on the Davos panel with Microsoft President and Chief Legal Counsel Brad Smith, whose company maintains an extremely complicated partnership with Washington, as both a developer and seller of technology to the government and also a target of nation-state hackers — including some directed by U.S. intelligence agencies.
Smith appeared to smile and laugh when Carter mentioned Snowden's name. The former NSA contractor's disclosures more than four years ago publicly revealed that the U.S. government both maintained a secretive relationship with Microsoft and was also covertly manipulating the company's products in order to gather intelligence for national security purposes.
The revelations cost Microsoft dearly because consumers became skeptical of the computing giant's connections to invasive spying practices.
In addition, Smith wrote a seething statement in May about the government following a leak of NSA-linked hacking tools, which were subsequently adopted by criminal groups and foreign governments alike to easily exploit older Microsoft Windows operating systems at scale. The largest cyberattack of 2017 known as "WannaCry," which manifested itself through vulnerable Microsoft systems, was in part driven by these same leaked hacking tools.