FBI director expects onslaught of digital assaults targeting midterm elections
The FBI is working with U.S. Cyber Command to combat election threats that include disinformation operations and potential cyberattacks.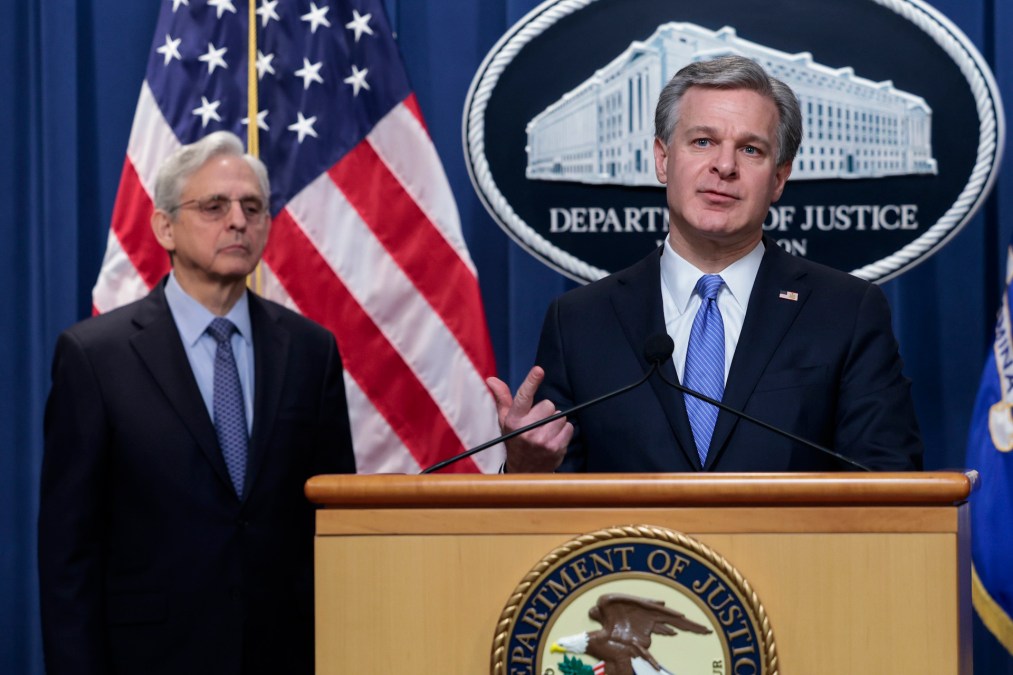 Federal law enforcement officials are preparing for a wave of multilayered cyberattacks and influence operations from China, Russia and Iran in the run up to November's midterm elections, FBI Director Christopher Wray said Tuesday.
Wray pointed to a multi-pronged 2020 Iranian cyber campaign to intimidate and influence American voters, saying officials expect to see more such incidents in the coming months.
The risks posed to the American public by "relatively modest hacking" increase exponentially when foreign governments layer such efforts with influence operations and disinformation that "causes panic or lack of confidence in our election infrastructure," Wray said during a cybersecurity conference at Fordham University in New York City.
Officials worry about how the impact of such threats might be magnified by what Wray called "multidisciplinary" cyber operations. The FBI is working closely with U.S. Cyber Command to manage election threats and when the two agencies are in "combat tempo" their respective teams are in touch every two hours at a minimum, Wray said.
"These are much, much closer relationships" than was true in the past, Wray said. He added that the closer working ties between Cyber Command and the FBI and both agencies and state and local election officials "builds much more resilience in the whole system."
Cyber Command is using its "hunt forward" model to better combat election interference, said National Security Agency Director Gen. Paul Nakasone, who was also at the conference, referring to defensive cyber missions typically carried out alongside foreign partners.
Cyber Command has conducted 50 such operations across 16 different countries over the past three plus years, Nakasone said, all of which have been aimed at fending off foreign interference in elections and other US interests. By partnering with foreign countries on the operations the U.S. positions itself to better understand adversaries, he said.
Both officials emphasized that foreign adversaries are innovating quickly and unveiling new cyber weapons all the time, requiring officials to "understand how they're getting better," Nakasone said. He went on to stress that adversaries have shown a capacity to innovate, which has forced him to think often about "new and unique ways that an adversary might try to disrupt or try to influence our elections."
Officials have seen dramatic changes in how cyberthreats directed at elections are evolving with every election cycle, Wray said. During the 2018 midterms, for instance, officials witnessed attacks that originated from Russia as well as influence operations tied to China in what Wray called an "expansion of techniques."
"It went from just sort of sowing divisiveness and discord through social media, fake personas, that kind of thing, into a much more multidisciplinary type of threat," Wray said.
In 2020, the FBI found itself pitted against adversaries that were "constantly innovating new digital influence capabilities, new ways to recruit different types of proxies and access agents, and more and more countries getting into the act," Wray said.