Elevation of Cyber Command will make it more like its elite brethren
The elevation earlier this month was mandated by Congress, widely anticipated and won't alter much. But buried in the detail is a change that counts.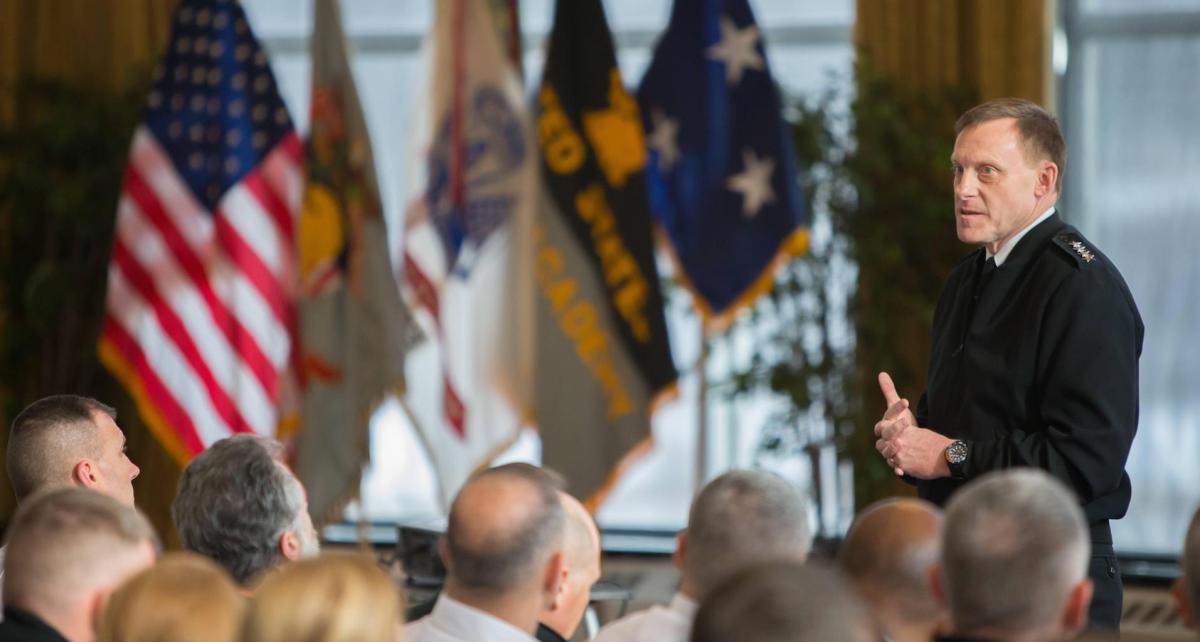 Buried deep in President Donald Trump's decision to elevate U.S. Cyber Command to a full-fledged unified combatant command is a detail that will eventually herald important changes to the way its military cyber personnel are going to be trained — and one that helps illuminate how the U.S.'s understanding of cyberwar is changing.
The elevation announcement earlier this month was mandated by Congress and was widely anticipated for months, if not years. According to current and former Pentagon officials, Adm. Michael Rogers, the four-star commander of Cyber Command, already has pretty much the same authorities the commanders of the other nine UCCs enjoy, including the highest profile ones — a direct line to the secretary of Defense and a seat at the budget deliberations table.
"On paper, the chain of command goes through U.S. Strategic Command," the UCC to which Cyber Command is currently subordinate as it awaits elevation, explained Kate Charlet, a former acting deputy assistant secretary of Defense for cyber policy. "And many formal decisions flow through the full chain of command … but in practice, Cyber Command's leader has direct communications with the Defense secretary on many cyber matters. That's probably something that got worked out with the commander of Stratcom."
Charlet, now a scholar at the Carnegie Endowment for International Peace, said that separating Cyber Command from the leadership of the NSA — Rogers currently leads both — would be a much more consequential change.
And that won't happen for more than year at the earliest, according to her successor as acting deputy assistant secretary, U.S. Air Force Maj. Gen. Ed Wilson, who is also the senior military adviser on cyber to Defense Secretary James Mattis.
The 2017 National Defense Authorization Act, passed last year, mandated a series of conditions for the separation between Cyber Command and the NSA, Wilson explained. "The [condition] that stands out is that the command's Cyber Mission Forces … have to achieve full operating capacity and that is projected to occur … by Oct. 1, 2018."
Training, training, training
There is one key change that will happen as a result of the elevation, and it illuminates the way Cyber Command is likely to develop as it matures.
The memo from Trump directing Mattis to elevate Cyber Command also assigns the new UCC as the Joint Force Trainer for cyberspace operations.
"[Cyber Command will] establish the certification requirements for all cyberspace operations personnel that operate under their command," explained Wilson, adding that authority was "almost unique."
This authority has the potential to make a huge difference to Cyber Command's culture. In general, in the U.S. military, the services are responsible for the organizing, training and equipping of forces. When U.S. pilots fly as part of a mission for U.S. Central Command forces, they do so certified to standards set by the Air Force, not by Central Command. And the same goes for the Army's tank commanders and the Navy's boatswains.
Currently, according to congressional testimony earlier this year, the NSA and Cyber Command itself are training personnel assigned from the services to the Cyber Mission Forces — the fighting teams that will actually wage cyberwar once they reach full operating capacity next year.
"This hybrid arrangement will come to an end, with the [military] services resuming responsibility and authority for training CMF personnel at the end of 2018," Rogers told the Senate Armed Services Committee.
But the JFT designation means Cyber Command will continue to set the standards those in the command must meet, no matter which service they come from, where they are trained or what their duties are.
A comparable exception is U.S. Special Operations Command, explained Wilson. SOCOM establishes training standards for special operations forces "so that no matter which service the member comes out of," the same exceptionally high physical and skills training standards are met. "The services approve and train, but they do so to standards set by SOCOM," he said, saying the Cyber Command authority was similar.
The authority gives Cyber Command the opportunity to raise the bar for talent — to try to forge the kind of elite mentality that pervades U.S. special operations forces.
Charlet adds that SOCOM also has special authorities when it comes to acquisitions, and says that it "is looked at as a potential model" for Cyber Command in that regard as well.
Again, this runs counter to military practice for the other eight UCCs — where the services equip their personnel. The Army buys the tanks that it trains its drivers to handle; just like the Air Force buys the planes its pilots fly.
"What kind of equipment do you need to operate in cyberspace?" asked Charlet, saying that procurement need to be more flexible and agile than the traditional system allowed for.
"Some of [that equipment] will be commercially available. How fast do you need to acquire it" given the speed of technological change? she asked, rhetorically.
Earlier this year, Congress granted $75 million in additional acquisition powers to Cyber Command for "emergent capabilities through agile acquisition," explained Wilson.
"We want to get [them] some experience there and then in 18-24 months we'll take a look within the department, to see how they got on" and decide whether more additional acquisition authorities are needed, Wilson said.
Confirmation before elevation
But making Cyber Command more like SOCOM is about more than agile procurements and training authorities.
Part of the reason the Obama administration reportedly soured on the dual hat command arrangement and began to promote a plan to separate NSA and Cyber COmmand was the perceived failure of the cyberwar effort against ISIS. Some officials — reportedly including Defense Secretary Ash Carter himself — were apparently underwhelmed by the results Cyber Command was able to produce.
Since Sept. 11, 2001, U.S. special forces have operated, often clandestinely, in dozens of countries — training friendly forces, undermining hostile regimes and killing terrorist leaders. They've become a go-to tool for U.S. policy makers to influence outcomes in far off corners of the globe.
Cyber Command, operating in the borderless domain of cyberspace, could easily grow to look like that kind of go-to tool as well.
"President Obama enjoyed using cyber capabilities just like he enjoyed using drone strikes and special operations forces, and for the same reasons: You can use use them covertly, quietly, without showing your hand and you can use them outside designated theaters of conflict," said Columbia University cyberwar scholar and former White House national security official Jason Healey.
In his book "A Fierce Domain," Healey recounts how, when the Department of Defense was weighing how to organize its cyberwarfare effort a decade and a half ago, the first option they considered — before assigning responsibility to Stratcom — was to put the capability in SOCOM. But the special operations commanders demurred.
And now, Healey said, "many national security officials see cyber and special ops as comparable just for those operational reasons [of stealth and deniability]."
On the other hand, he said, the military "always wants every capability. They want to be able to offer the full range of options to policy makers. They want Cyber Command to have strategic capabilities that can help win a war with Russia or China, they want it to have small scale capabilities that can be used against ISIS, they want loud weapons that advertise our role and quiet ones that conceal it. They want it all."
For the time being, however, they will just have to wait. None of the new authorities or other changes — even the ones that won't make any difference — will take effect until a new commander for the new UCC-version of Cyber Command is nominated and confirmed. That person will be dual hatted as NSA director.
Wilson and other officials have said there's no deadline for the nomination — and they've made it clear that Rogers isn't being ruled out to continue doing both jobs.
But in the meantime, somewhat in the manner of employees being told to re-apply for their jobs after a major re-organization, Rogers is left hanging, although officials deny that he's been left to twist in the wind.
"The roll-out [of something like elevation] involves a very complex set of decisions … all of them wrapped up together," said Charlet, explaining the delay in naming a nominee. But she added, that the nominee needs to be named "fairly soon," because the elevation "can't take effect until they're confirmed."