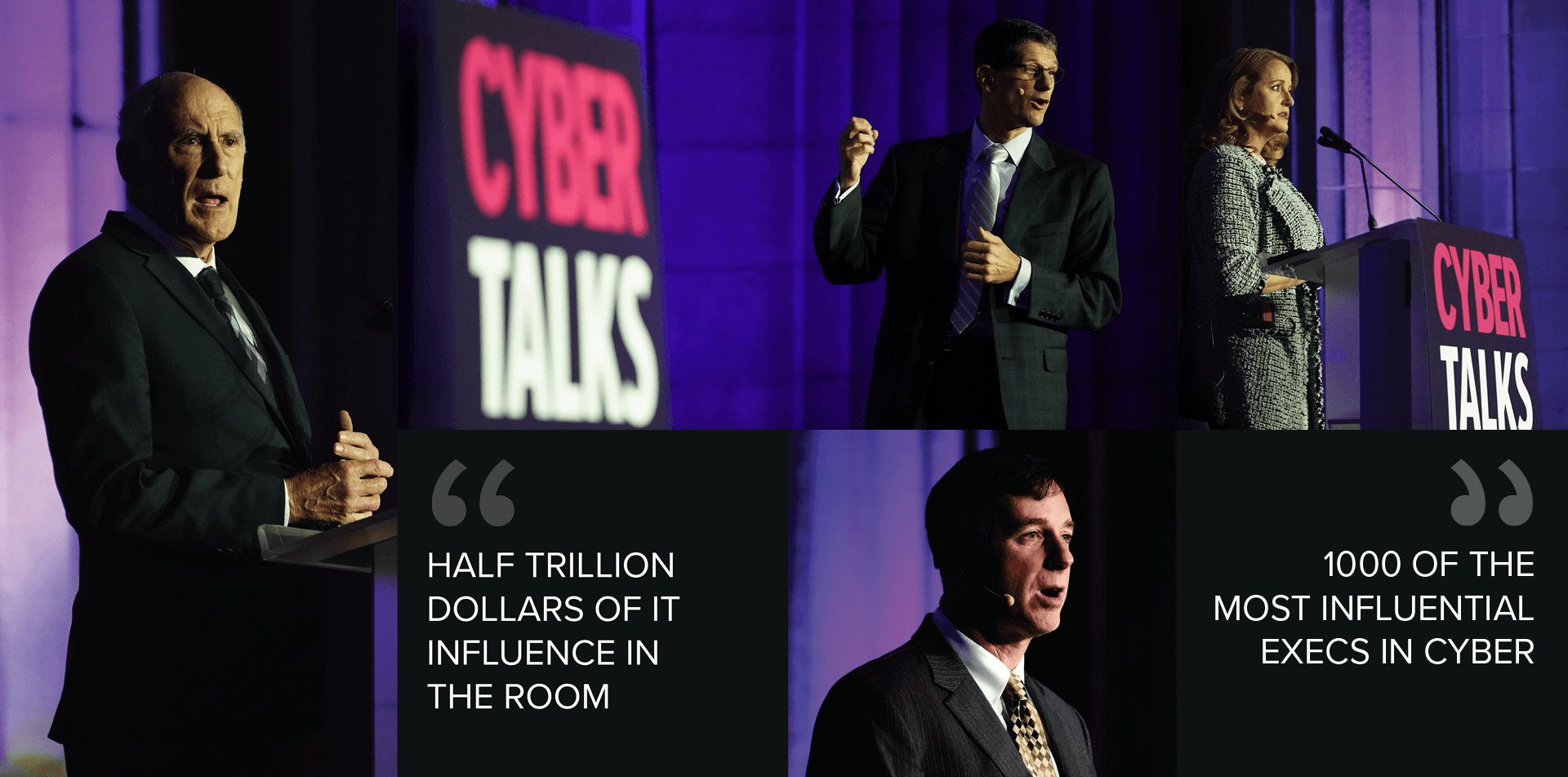 Presented by CyberScoop, DC CyberTalks is a TED-like conference dedicated to addressing cybersecurity priorities, trends, innovations, and the unprecedented security challenges ahead.

For one day, 1,000 of the most influential cyber leaders
from tech and government will gather in Washington, DC
to hear the industry's brightest speakers discuss the most
critical issues in cybersecurity.
Thursday, October 24, 2019 • Andrew Mellon Auditorium, Washington, DC
Follow us! #CyberTalks
Online registration is now closed. On-site registration will be available at the Andrew Mellon Auditorium starting at 7:30 AM.
Interested in earning continuing professional education (CPE) credits?
to learn more!
Continuing Professional Education (CPE) credits
2019 FedTalks attendees are eligible to receive continuing professional education (CPE) credits. Attendees can earn a maximum of 4 CPE credits in computer science.
In order to verify your CPEs, please document your name on the CPE attendance sheet located at the registration desk onsite. Be sure to return to the registration desk to document your time out. If sign in and/or sign out times are not documented, CyberScoop is unable to verify your attendance and therefore cannot award CPE credit. Additional details:
Delivery Method: Group-Live
Program Level: Intermediate
Prerequisites: Previous professional experience in IT and technology is recommended for all participants
Advance Preparation: No advance preparation necessary

Contact Beka Troutman for details on obtaining CPE credits at the event.
Scoop News Group is registered with the National Association of State Boards of Accountancy (NASBA) as a sponsor of continuing professional education on the National Registry of CPE Sponsors. State boards of accountancy have final authority on the acceptance of individual courses for CPE credit. Complaints regarding registered sponsors may be submitted to the National Registry of CPE Sponsors through its website: www.learningmarket.org
Rep. Mike Rogers
R-Ala.
First elected in 2002, Rep. Mike Rogers currently serves as Ranking Member of the Committee on Homeland Security and a senior member of the Armed Services Committee, both vital to Alabama's interests. Nationally, he has built a reputation as a recognized leader on key national security issues.

Rogers has made securing our borders a key part of the Homeland Security Committee's agenda and works continuously to help improve FEMA's disaster response. Ensuring rural first responders are treated fairly by Washington is one of Mike's top priorities, as is his strong advocacy for the Center for Domestic Preparedness located in Anniston, Alabama.
Chris Krebs
Director, CISA, DHS
Chris Krebs serves as the first director of DHS's Cybersecurity and Infrastructure Security Agency (CISA). Krebs was originally sworn in on June 15, 2018, as the Under Secretary for the predecessor of CISA, the National Protection and Programs Directorate (NPPD).

Krebs joined DHS in March 2017, first serving as Sr. Counselor to the Secretary. Prior to coming to DHS, he was a member of Microsoft's U.S. Government Affairs team as the Director for Cybersecurity Policy, where he led the company's U.S. policy work on cybersecurity and technology issues. Before Microsoft, Krebs advised industry and federal, state and local government customers on a range of cybersecurity and risk management issues. This is his second tour working at DHS, previously serving as the Senior Advisor to the Assistant Secretary for Infrastructure Protection.
Suzette Kent
Federal CIO, Executive Office of the President
Suzette Kent serves as the Federal CIO at OMB. Kent is an industry leader of large-scale business transformation using technology, for the world's most complex organizations.

Although technology change has been at the core of Kent's professional career, retooling the workforce and creating new opportunities for people has been a priority during her time at the White House. Kent has served as an enterprise leader for organizational learning, diversity and inclusiveness, and career development at every organization in which she has worked. Kent is a frequent speaker in global industry forums and publisher of thought leadership pieces, and she holds patents in banking processes.
Anne Neuberger
Director, Cybersecurity, NSA
In July 2019, Anne Neuberger was tapped to head the NSA's new Cybersecurity Directorate at Fort Meade. The Directorate was stood up to unify NSA's foreign intelligence and cyberdefense missions. It is charged with preventing and eradicating threats to National Security Systems and the Defense Industrial Base.

Neuberger, who in 2014 became the NSA's first chief risk officer, reports directly to NSA Director Gen. Paul Nakasone. Neuberger was also previously NSA Deputy Director of Operations and lead of NSA's Russia Small Group.
Dana Deasy
CIO, DOD
Dana Deasy is the DOD CIO. He is the primary advisor to the Secretary of Defense for matters of information management, IT and information assurance, as well as non-intelligence space systems, critical satellite communications, navigation and timing programs, spectrum and telecommunications.

Deasy has more than 38 years of experience leading and delivering large-scale IT strategies in projects. He previously held several private sector senior leadership positions, most recently as Global CIO of JPMorgan Chase. There, he was responsible for the firm's technology systems and managed a budget of more than $9 billion and over 40,000 technologists supporting JPMorgan Chase's Retail, Wholesale, and Asset Management businesses.
Tonya Ugoretz
Deputy Assistant Director, Cyber Division, FBI
Tonya Ugoretz is the Deputy Assistant Director for the Cyber Division at the FBI, where she oversees intelligence, operations support, workforce readiness and outreach.

Ugoretz has served in joint duty positions with CIA, CBP and the National Intelligence Council. Most recently, she spent three years as the first Director of ODNI's Cyber Threat Intelligence Integration Center (CTIIC), a multiagency center that builds understanding of foreign cyberthreats to U.S. national interests. Ugoretz received the National Intelligence Distinguished Service Medal from ODNI and the Director's Award for Exceptionally Meritorious Service from the National Counterterrorism Center.
John Demers
Assistant Attorney General, National Security Division, DOJ
John Demers became Assistant Attorney General for National Security in February 2018. In that capacity, he leads the DOJ's efforts to combat national security-related cybercrime, terrorism and espionage, to enforce export control and sanctions laws, to use the authorities of the Foreign Intelligence Surveillance Act and to conduct national security review of foreign investments.

In November 2018, Demers was selected to lead the Attorney General's China Initiative, put in place to counter the People's Republic of China's persistent and aggressive economic espionage, trade secret theft, hacking and other related crimes.

Prior to rejoining DOJ, Demers was VP & Assistant General Counsel at The Boeing Company, where he held several senior positions in Boeing Defense, Space and Security and as lead lawyer and head of international government affairs for Boeing International.
Gary Brantley
CIO, City of Atlanta
Gary Brantley is an innovative technology strategist renowned for his financial acumen and expertise in cultivating productive collaborations. He brings more than 20 years of experience in the technology sector, in addition to 17 years of leadership, to the City of Atlanta as the CIO of the Department of Atlanta Information Management (AIM). As CIO, Brantley is accountable for IT services for all 25 city departments including Public Safety, Justice, Operations, Administration and Hartsfield-Jackson International Airport.

Before joining AIM, Gary was the CIO for the DeKalb County School District, the third-largest school district in Georgia. Gary began his career with IBM before moving to Ohio as the Director of Technology. He later became CIO for the Lorain City School District, which is one of the largest urban school districts in Ohio.
Matt Olsen
Chief Trust & Security Officer, Uber
Matt Olsen leads a global team responsible for cybersecurity, corporate security and investigations and law enforcement engagement at Uber. Olsen has served as a leading government official on a range of national security, intelligence and law enforcement issues. Most recently, Olsen served as the Director of the National Counterterrorism Center under President Barack Obama.

Prior to joining NCTC, Olsen was the General Counsel for the NSA, serving as its chief legal officer and focusing on surveillance law and cyber-operations. Olsen also worked at the DOJ in a number of leadership positions. He served as an Associate Deputy Attorney General, responsible for national security and criminal cases. He also was Special Counselor to the Attorney General and Executive Director of the Guantanamo Review Task Force. Olsen served as acting Assistant Attorney General for National Security and helped establish the National Security Division.
Toke Vandervoort
SVP, Deputy General Counsel, Under Armour
Toke Vandervoort serves as SVP, Deputy General Counsel, Under Armour. She leads several mission-critical legal functions for UA, including its Commercial, Digital, Employment, IP, Litigation and Brand Protection, Privacy and Product Compliance legal teams responsible operationalizing a dizzying array of international legal requirements to advance and protect Under Armour's mission globally.

Vandervoort joined Under Armour in January 2016 after more than 20 years in technology development, telecom and internet solutions – in private practice, and as a judicial clerk to two federal judges in Denver. She is also a current member of the DHS Data Privacy and Integrity Advisory Committee, and the advisory councils of both the Georgetown Cyber Security Law Center and the Center for Democracy and Technology. She is a frequent public speaker and has been profiled in ABA Landslide magazine on the subject of leadership.
Matthew Dunlop
VP & CISO, Under Armour
Matt Dunlop is VP & CISO at Under Armour, where he is responsible for global security across all of the company's corporate, retail and eCommerce functions, as well as its numerous connected fitness applications. He is also a retired U.S. Army colonel with nearly 30 years of service.

During his time in the Army, Dunlop participated in the build of U.S. Cyber Command, with his final position being the Director of Applied Research and Development. Dunlop also has a rich academic background that includes assistant professor of computer science at West Point, computer science faculty mentor at the National Military Academy of Afghanistan and adjunct faculty in the Electrical and Computer Engineering Department at Virginia Tech.
Goldy Kamali
Founder & CEO, Scoop News Group
Goldy Kamali is founder and CEO of Scoop News Group, the leading public sector tech media company in the country. SNG is comprised of CyberScoop, FedScoop, StateScoop and EdScoop and engages top CIOs, CTOs and CISOs from the public sector and tech community both online and in-person every single day through news, events, radio and TV. Kamali is known for her ability to bring the brightest and most influential IT leaders from The White House, government agencies, and tech industry together in innovative ways to exchange best practices and collaborate to achieve common goals. Hosting regular VIP gatherings, on top issues facing the community, she concentrates on the key IT priorities of the Administration, so they remain front and center.

Prior to launching FedScoop, Kamali spent over 12 years in leadership roles in the tech industry most recently as Executive Director of the American Electronics Association-the largest tech association in the country where she led the association's Government and Commercial Markets Group and worked closely with C-Level executives from the tech industry and government agencies.
Teresa Shea
VP, Cyber Offensive & Defensive Experts CODEX, Raytheon
Teresa Shea was appointed VP of cyberwarfare and mission innovations to lead a newly created area of business for Defense Department and intelligence community customers at Raytheon IIS. Shea is tasked with leading the integration of Raytheon's DOD cyberwarfare initiatives and intelligence community cyber mission programs.

Prior to joining the Raytheon team, Shea was EVP of technology at In-Q-Tel, where she led technology investment with the intelligence community and DOD customers. She also spent 32 years with NSA and served as director of signals intelligence.
Bill Rowan
VP, Federal Sales, VMware
Bill Rowan serves as the VP of VMware's Federal Sales department. His leadership in security innovation in cloud migration efforts is acknowledged by industry and government alike.

Rowan leads a team of more than 175 sales, engineering, advisory and implementation services professionals who aid federal organizations in meeting the requirements for cloud technology and virtualization. With over three decades of experience serving as an advisor to the DOD, Federal VARs and other SI organizations, Rowan has the experience to critically evaluate IT strategies, exploring their success as network technologies change and the future of mobility shifts moving forward. Prior to his current role at VMware, Rowan was the Federal DOD Operations Director at EMC, holding senior management positions at Storage Technology Corporation, MicroStrategy and IBM.
Rick Piña
Chief Technology Advisor, Public Sector, World Wide Technology
Rick Piña has nearly 30 years of experience in the IT field. He joined World Wide Technology in 2015 after serving in the U.S. Army for 25 years. Piña now serves as the Public Sector Chief Technology Advisor. In this role he leads the Public Sector Technology and Innovation Group and engages with clients on strategy, innovation and transformation.

Piña also serves as an agent for change and thought leadership, communicating WWT's innovation in public-facing forums and symposiums. His final military assignment was serving as the CTO in the U.S. Army Office of the CIO/G-6 office. In that role, Piña became the first Signal Warrant Officer to serve on the U.S. Army Staff as the CTO and Sr. Technical Advisor. Piña provided technical leadership at the highest level in the Army communications field. He served as the principal technical interface to industry, provided technical counsel to the Army's senior leaders, and coordinated across the Army to promote unity of effort for the Army Network Campaign Plan and vision.
Christopher Scott
Global Remediation Lead, X-Force IRIS, IBM
With 20 years of experience, Scott has designed and delivered some of the most comprehensive proactive security programs for the world's largest organizations in industries including: financial, defense, commercial and manufacturing. Throughout his career, he has led incident response teams for some of the largest data breach investigations, with an emphasis on significantly reducing an organization's risk to cyberattacks and decreasing the time it takes to respond.

In 2017, Scott worked onsite at several engagements responding to the destructive Shamoon attacks in Saudi Arabia, and in the U.K. responding to the NotPetya attacks. Prior to joining IBM X-Force IRIS, Scott was a director at CrowdStrike, where he was heavily focused on incident remediation. Before CrowdStrike, Christopher spent more than 15 years working for L-3 Communications.
Brett Hansen
VP, Client Software & GM, Data Security, Dell
Brett Hansen is the Vice President of Data Security Solutions at Dell. In this role, he leads a virtual organization that encompasses all functions of the rapidly growing Data Security business. In addition, he oversees the product management and marketing teams for the Commercial Client security and management capabilities that differentiate Dell client devices as the "most secure and manageable" on the planet.

Hansen engages with customers, channel partners and product developers on a daily basis, leveraging his more than 15 years of experience leading business development and channel functions in the software industry. Hansen joined Dell after 12 years with IBM Software Group. His previous position within Dell was Executive Director, Product Management and Marketing, Client Solutions Software. During this tenure, he held business and product management responsibility for the software load and experience across all Dell end-user client devices.

Hansen holds a BS in Economics & History from JMU and an MBA in Marketing from the University of Montana.
Christopher Crummey
Executive Director of IBM Security X-Force Evangelism and Outreach, IBM
Christopher Crummey serves as Executive Director of IBM Security X-Force Evangelism & Outreach. In terms of IBM Security outreach, Crummey and his team provide a sense of what a cyber "Security Culture" looks like and educate customers on "Cyber Best Practices" through the first commercially built Cyber Range in Cambridge, MA and the Executive Briefing centers. He also leads a team of global Executive Security Evangelists who are leading industry experts and provide keynote presentations and demonstrations.

Crummey also leads a global team of security development experts who provide technical insight in product integration, mobility, cognitive and cloud-based security solutions. With over 25 years of IBM experience, Crummey is one of the most sought-after keynote speakers at IBM. He holds a bachelor's degree in psychology from Hobart College.
Maurice Turner
Sr. Technologist, Center for Democracy & Technology
Maurice Turner is Sr. Technologist at the Center for Democracy & Technology, a Washington, DC-based non-profit advocacy organization dedicated to ensuring the internet remains open, innovative and free. Turner focuses on the Election Security and Privacy Project identifying and updating election cybersecurity practices and infrastructure, and working through potential remedies. Turner brings a unique mix of formal education and practical work experience in technology and local, regional, and national policymaking to the Internet Architecture project.

Nearly a decade of municipal management experience is complemented by numerous private-sector technology positions, fellowships, and internships. His previous employers include the City of Newport Beach, EarthLink Municipal Networks, Center for Democracy and Technology, Coro Foundation, United Medical Center Hospital, DOT, and Apple.

After receiving a bachelor's in political science from Cal State Fullerton, he went on to earn a master's in public administration from the University of Southern California focusing on emerging communication technologies, privacy, and civic engagement. In addition, he holds a graduate certificate in cybersecurity strategy from Georgetown University.
Greg Otto
Editor-in-Chief, CyberScoop
Greg Otto is the editor-in-chief of CyberScoop, overseeing all editorial content for the website. Previously, Greg was FedScoop's technology editor, covering all of the innovative tech government is leveraging: cloud computing, mobility, cybersecurity, open source and enterprise architecture.

Previously, Greg has worked at the Washington Business Journal, U.S. News & World Report and WTOP-FM, winning an Edward R. Murrow award in 2009. Greg holds a B.A. in Journalism from Temple University.
Sean Lyngaas
Sr. Reporter, CyberScoop
Sean Lyngaas is CyberScoop's senior reporter covering DHS and Congress. He was previously a freelance journalist in West Africa, where he covered everything from a presidential election in Ghana to military mutinies in Ivory Coast for The New York Times. Lyngaas's reporting has also appeared in The Washington Post, The Economist, and the BBC, among other outlets. His investigation of cybersecurity issues in the nuclear sector, backed by a grant from the Pulitzer Center on Crisis Reporting, won plaudits from industrial security experts. He was previously a reporter with Federal Computer Week and, before that, with Smart Grid Today. Lyngaas earned a B.A. in public policy from Duke University and an M.A. in international relations from The Fletcher School of Law and Diplomacy at Tufts University.
Patrick Howel O'Neill
Reporter, CyberScoop
Patrick Howell O'Neill is a CyberScoop technology reporter based in San Francisco. Minding both Silicon Valley and Washington, D.C., Howell O'Neill covers the bridge between government and private sector in cybersecurity. At the last CyberTalks event in San Francisco, Howell O'Neill interviewed former NSA East Asia chief and current Recorded Future director Priscilla Moriuchi. Previously, he worked at the Daily Dot covering politics and technology.
Steve Rice
Deputy CIO, DHS
Steve Rice currently serves as the Principal Deputy CIO at DHS. In this role, he oversees the management, security, and sharing of DHS IT. Rice comes directly from TSA, where he served as CIO and Assistant Administrator for the Office of Information Technology. He took that role in 2013, having previously worked as Deputy CIO. While at TSA, Rice oversaw IT strategy, operations and security.

Rice's experience at HDS began in the U.S. Secret Service, where he played both intelligence and technical roles. In his nearly decade-long tenure there, Rice assisted the intelligence investigation unit that responded to the Oklahoma City bombings, managed data communication teams for several Secret Service protection events and assisted with management of telecommunications for both presidential conventions.

He has extensive experience in working within a risk based framework, leveraging federal IT cybersecurity policy and best practice while leading large complex technology modernization programs, governing multi-billion dollar IT portfolios and balancing mission enhancements across an ever evolving cyber threat landscape. Rice holds a B.A. in Business Administration & Management from Old Dominion University.
Robert Ames
Sr. Director, National Technology Strategy, VMware
Robert Ames is Sr. Director, National Technology Strategy at VMware Research where he acts as a key link between government customers with challenging missions and VMware's cutting edge Research & Development capabilities. Ames has made a career of driving innovation in government and public sector.

He was formerly at In-Q-Tel where he led several practices, creating and executing investment strategies while building deep relationships with government leaders, technology startups and entrepreneurs. Prior to IQT, Ames was Director & Deputy CTO for IBM Federal, where he worked to apply innovations from IBM's Research and Development organizations to government missions, bringing advancements in Virtualization, Automation and the early days of Cloud Computing to the Government.

IT is not Ames' first career. He started his professional life as an opera singer. As a former musician in IT, Ames is passionate about the value of alternative disciplines in delivering innovative and ground-breaking approaches to complex problems. Ames holds a B.A. and Masters in Music from Rice University.
Dr. Doug Maughan
Division Director, Industry Partnerships, Office of Innovation & Collaboration, S&T, DHS
Maughan is Director of the Industry Partnerships within the Office of Innovation & Collaboration within the Science and Technology Directorate at DHS. Maughan has been at DHS since October 2003 and his research interests and related programs are in the areas of networking and information assurance. Dr. Maughan has been responsible for helping bring to market over 40 commercial and open-source information security products during the past 12+ years while at DHS and he is the Senior Executive responsible for the DHS Silicon Valley Innovation Program.

Prior to his appointment at DHS, Maughan was a Program Manager at the Defense Advanced Research Projects Agency (DARPA). Prior to his appointment at DARPA, Maughan worked for NSA as a senior computer scientist and led several research teams performing network security research.

Maughan received Bachelor's Degrees in Computer Science and Applied Statistics from Utah State University, a Master's degree in Computer Science from Johns Hopkins University, and a Ph.D in Computer Science from the University of Maryland, Baltimore County.
Tommy Gardner
CTO, Federal, HP
Tommy Gardner is CTO for HP Federal, spanning the U.S. federal agencies, higher education, K–12 education, state and local government customer segments, and federal systems integrators. His responsibilities include technology leadership, strategic technology plans, product and technology strategies, sales force technical support, and customer and partner relationships.

He was previously CTO for Jacobs Engineering, Scitor, and ManTech, and earlier in his career was a senior technical executive at Raytheon. In the Dept. of Navy, as Deputy for science and technology for the Chief of Naval Research, he oversaw the Deep Submergence Program and Advanced Technology Program, and commanded the nuclear submarine USS San Juan (SSN 751).

Gardner holds a BS in mechanical engineering from the U.S. Naval Academy, a Master's in public administration from Harvard University, an M.S. in management of technology from MIT, and a Ph.D in energy economics from George Washington University.
Tim Bennett
Program Manager, S&T Airborne Technology, OS&T, DHS
Tim Bennett has over 30 years of experience managing, designing, manufacturing and testing intelligence, surveillance and reconnaissance (ISR) and signal intelligence (SIGINT) systems for manned and unmanned airborne systems. He started his career at NRL working on communication programs like the Classic Wizard. His recent accomplishments include leading the design and manufacturing of the Universal Ground Control Systems used to control the Gray Eagle, Shadow, Hunter and Orion UAS. Also, as the Product Director, he lead the effort for the design, manufacturing and testing of Orion UAS that holds the long endurance record of 80 hours for continuous flight, with the ability to fly several more days without refueling.

Bennett joined the DHS Security Science & Technology Directorate in 2015 where he was the Deputy of the Program Executive Office for Unmanned Aircraft Systems (UAS). He currently leads manned and unmanned airborne research and technology transfer to the U.S. Coast Guard and CBP for the Borders and Maritime Security Division (BMD) of the DHS Science and Technology Division.
Angela Stubblefield
Deputy Associate Administrator for Security & HAZMAT Safety, FAA
Angela Stubblefield is the Deputy Associate Administrator for the FAA's Security and Hazardous Materials Safety office. Stubblefield has 25 years expertise in threat analysis, emergency operations planning, hazardous materials safety, national security policy, and investigations oversight.

Since 2001, Stubblefield has held positions in FAA, TSA, and the Office of the Secretary of Transportation. In addition to working across Lines of Business in FAA, she routinely collaborates with the National Security Council and executive departments and agencies to resolve complex national security, safety, and crisis-response challenges.

Stubblefield has a B.A in Government and Philosophy from the University of Virginia. After graduating, she became an active duty United States Marine and worked for the U.S. Marine Corps as a civilian intelligence analyst before joining the FAA. She also earned a M.A. in Transportation Policy, Operations, and Logistics from George Mason University School of Public Policy.
Donna Dodson
Chief Cybersecurity Adviser, NIST
As NIST's Chief Cybersecurity Advisor, Donna Dodson provides leadership and vision for all cybersecurity research programs at NIST. She is the primary technical expert and management advisor for cybersecurity for NIST as well as the Department of Commerce and is a key cybersecurity leader for the Administration and the Nation. Dodson also serves as the Director of the National Cybersecurity Center of Excellence.

In addition to her extraordinary technical and leadership skills, Dodson is a consummate team builder who works tirelessly to find the benefits to all parties involved. These skills have been vital in the successful development of solutions to complex national challenges in cybersecurity.

Since joining NIST in 1987, Dodson has been selected as a Fed 100 winner for innovations in cybersecurity, as one of the top 10 influential people in government IT in 2011, and as one of FedScoop's Top 50 D.C. Women in Tech.
Grant Schneider
Federal CISO & Sr. Director, National Security Council, Executive Office of the President
Grant Schneider serves as the Federal CISO and Sr. Director for Cybersecurity Policy on the National Security Council staff. In these roles, Schneider leads teams of cybersecurity experts who develop and oversee crosscutting policies to enhance the nation's cybersecurity. He and his staff seek to improve the nation's cybersecurity in three ways: enhancing the overall defensive posture of federal and critical infrastructure cybersecurity; leveraging the expertise of the U.S. intelligence community to mitigate threats to federal cybersecurity; and leading an effective and efficient response to Federal incidents.

Prior to joining the White House as cybersecurity adviser to the Federal CIO in 2015, Schneider served for seven years as the DIA's CIO.
Donald Heckman
Principal Director & Deputy CIO for Cybersecurity, DOD
Donald Heckman is the Principal Director, Deputy CIO for Cybersecurity at the DOD OCIO. Heckman is responsible for ensuring the department has a well-defined and well-executed cybersecurity program. He is responsible for coordinating cybersecurity standards, policies and procedures with other federal agencies, coalition partners and industry.

Heckman began his career at NSA in 1983. He has served in a variety of technical and management positions over his career, including project engineer, program manager and manager up to Deputy Directorate level. He is a key leader who has a deep technical knowledge of all aspects of the Information Assurance mission. He has received numerous awards from the Defense, and Intelligence communities in recognition of his vision, leadership, and accomplishments including the Meritorious Presidential Rank Award in 2017. He was appointed to the Senior Executive Service in October 2005.

Heckman graduated from Johns Hopkins University with a Master of Science degree in Electrical Engineering and he received a B.S. degree in Electrical/Computer Engineering from Drexel University.
Brian Dastur
Acting Section Chief of the Cyber Readiness Section, FBI
Brian Dastur currently serves as the Acting Section Chief of the Cyber Readiness Section at the FBI. In this role, he leads the FBI Cyber Division in a multitude of complex computer and data science matters, and identifies and evaluates strategic opportunities.

Prior to this role, Dastur spent 20 years as the Technical Lead for the FBI's Insider Threat Center, where he also coordinated with the Intelligence Community and DOD programs to assess current and future insider threat technologies.

Dastur earned a Bachelor's degree in Mathematics from the University of Illinois at Chicago.
Jack Wilmer
CISO, DOD
Jack Wilmer is the Deputy CIO for Cybersecurity and the CISO within the DOD. Wilmer provides expert policy, technical, program and Defense-wide oversight on all aspects and matters related to DOD Cybersecurity. He oversees the integration of Defense-wide programs to protect the Department's critical infrastructure against advanced persistent threats, and assures coordination of cybersecurity standards, policies, and procedures with other federal agencies, coalition partners, and industry.

Prior to this role, Wilmer served as the Principal Assistant Director for National Security & International Affairs within the OSTP where he provided expertise for whole-of-government policy coordination on a wide range of national security topics. He also served OSTP as a Senior Policy Advisor for Cybersecurity and IT Modernization to advance the President's technology agenda by focusing on job creation, modernizing federal infrastructure and protecting the Homeland.
Chris Johnson
Global Compliance Product Lead, Google Cloud
Chris Johnson (CJ) is Google Cloud's Global Compliance Product Lead. In addition to Global Compliance, he is the group product leader of Google's Assurant Cloud efforts, driving product and engineering efforts related to regulated-industry data security and to Google Cloud's security partnerships.

Previously, he was Chief Technical Architect for converged cloud products at Hewlett Packard, where he also served in the office of the CTO leading global shared services initiatives around container management, orchestration, and analytics. Johnson started his first technology company, with another Googler, when he was 16. He has led two different early-stage technology companies through rapid growth to acquisition. Outside of his technology endeavors, Johnson has served as a firefighter, rising to the rank of Deputy Chief in Colorado for over ten years.