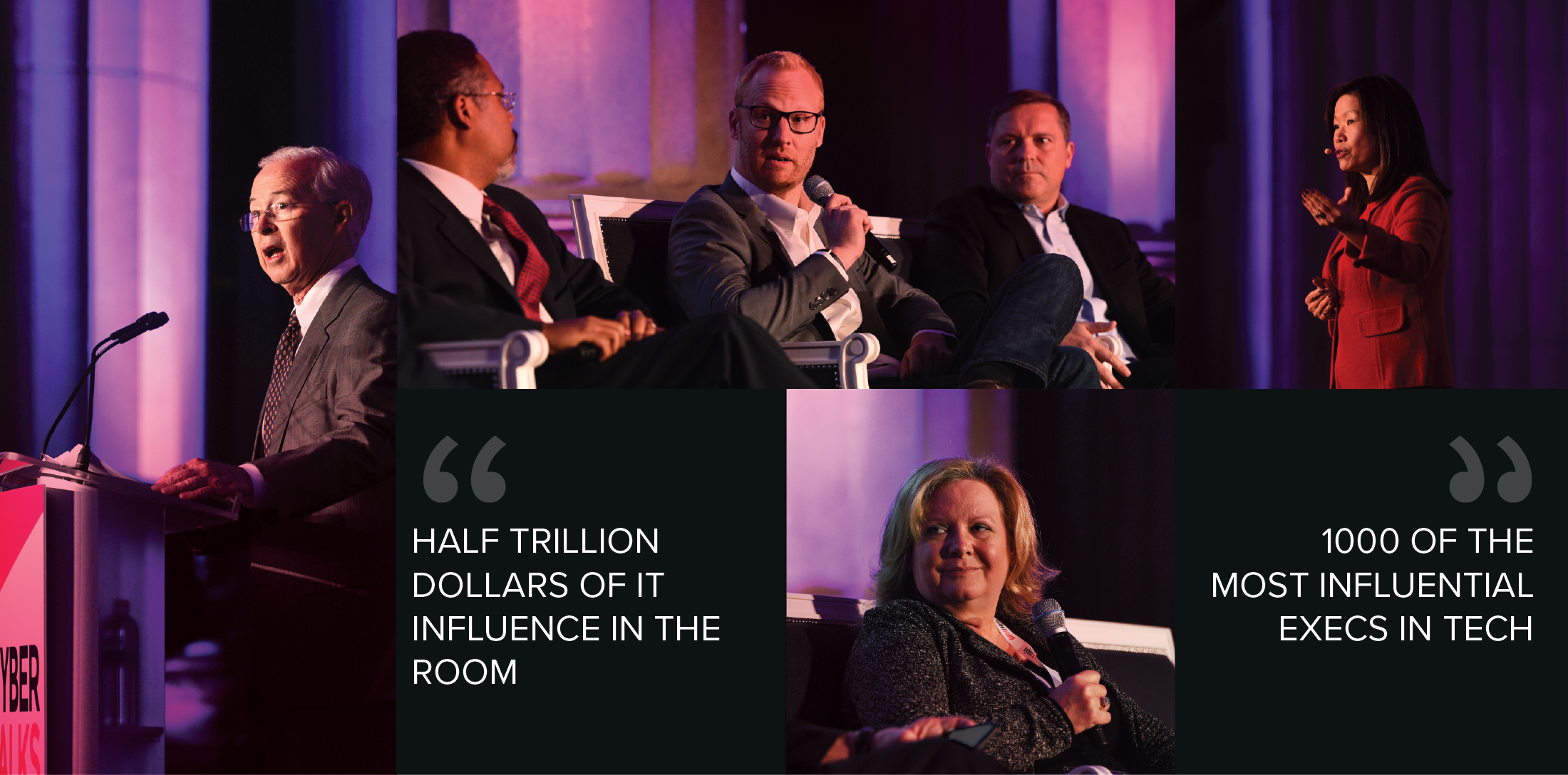 Presented by CyberScoop, DC CyberTalks is a TED-like conference dedicated to addressing cybersecurity priorities, trends, innovations, and the unprecedented security challenges ahead.

For one day, 1,000 of the most influential cyber leaders
from tech and government will gather in Washington, DC
to hear the industry's brightest speakers discuss the most
critical issues in cybersecurity.
Thursday, October 18, 2018 • Andrew Mellon Auditorium, Washington, DC
Follow us! #DCCyberTalks
Online registration is now closed. On-site registration will be available at the Andrew Mellon Auditorium starting at 7:30 AM.
Daniel Coats
Director of National Intelligence, ODNI
The Honorable Daniel Coats was sworn in as the fifth Director of National Intelligence on March 16, 2017. As DNI, Coats leads the U.S. Intelligence Community and serves as the principal intelligence advisor to the President.

From 1981 to 1999, Coats served in the U.S. House of Representatives and then in the U.S. Senate. During this time in Congress, he served on the Senate Armed Services Committee and Select Committee on Intelligence, where he worked on ways to strengthen our national defense and security. Coats was named Ambassador to the Federal Republic of Germany from 2001 until 2005.

Coats returned to the U.S. Senate in January 2011 to focus on reducing the national debt, promoting pro-growth economic policies to put Americans back to work, and protecting Americans from terrorist threats. He served on the Senate Select Committee on Intelligence, as well as the Finance, Appropriations, and Joint Economic committees. He did not seek reelection in 2016 and retired from the Senate in January 2017.

After graduating from Wheaton College in 1965, Coats served in the U.S. Army from 1966 to 1968. He also received his J.D. from the Indiana University Robert H. McKinney School of Law.
Chris Krebs
Under Secretary, National Protection & Programs Directorate, DHS
Christopher Krebs was sworn in on June 15, 2018 as the Under Secretary for the Department of Homeland Security's National Protection and Programs Directorate. As Under Secretary, Krebs oversees NPPD's efforts to defend civilian networks, secure federal facilities, manage systemic risk to National critical functions, and work with stakeholders to raise the security baseline of the Nation's cyber and physical infrastructure.

Before serving as NPPD Under Secretary, Krebs was appointed in August 2017 as the Assistant Secretary for Infrastructure Protection. Krebs joined DHS in March 2017, first serving as Senior Counselor to the Secretary. Prior to coming to DHS, he was a member of Microsoft's U.S. Government Affairs team as the Director for Cybersecurity Policy, where he led Microsoft's U.S. policy work on cybersecurity and technology issues.

Krebs holds a bachelor's degree in environmental sciences from the University of Virginia and a J.D. from the Antonin Scalia Law School at George Mason University.
Suzette Kent
Federal CIO, Executive Office of the President
Suzette Kent serves as the Federal CIO at the Office of Management and Budget. Kent is an industry leader of large-scale business transformation using technology, for the world's most complex organizations. She most recently served as a principal at EY and has been a partner at Accenture, consulting president at Carreker Corporation and a Managing Director at JPMorgan.

Although technology change has been at the core of her professional career, retooling the workforce and creating new opportunities for people has been an essential element of efforts that she has led. She has served as an enterprise leader for organizational learning, diversity and inclusiveness, and career development at every organization in which she has worked. Kent is a frequent speaker in global industry forums, publisher of thought leadership pieces and holds patents in banking processes.

Kent holds a BA from Louisiana State University.
Rob Joyce
Sr. Advisor for Cybersecurity Strategy, NSA
Rob Joyce serves as Sr. Advisor for Cybersecurity Strategy at NSA. Previously, Joyce served as special assistant to the President and Cybersecurity Coordinator on the National Security Council. He also began serving as White House Homeland Security Adviser to the President on an acting basis from April 10, 2018 to May 31, 2018. He completed his detail to the White House in May 2018 and returned to NSA.

Joyce began work at NSA beginning in 1989, in a variety of roles. From 2013 to 2017, he was head of the NSA's Tailored Access Operations (TAO), a cyber-warfare intelligence-gathering unit also known as the "hacking division." Previously, he served as the Deputy Director of the Information Assurance Directorate, and the SID Associate Deputy Director for Counterterrorism. Also within NSA, Joyce worked as Technical Director for the NSA Commercial Solution Center's Commercial Partnerships Office, and was chief of the Selection Systems Branch and Technical Director in NSA's Special Source Operations. He was elevated to the Senior Executive Service in 2001. Joyce holds a Master's degree in Electrical and Electronics Engineering from The Johns Hopkins University.
Jeanette Manfra
Assistant Secretary, Office of Cybersecurity & Communications, National Protection & Programs Directorate, DHS
Jeanette Manfra serves as the National Protection and Programs Directorate, Assistant Secretary for the Office of Cybersecurity and Communications. Manfra leads the DHS mission of strengthening the security and resilience of the nation's critical infrastructure.

Previously, Manfra served as Senior Counselor for Cybersecurity to the Secretary of Homeland Security and Director for Critical Infrastructure Cybersecurity on the National Security Council staff at the White House.

At DHS, she held multiple positions in the Office of Cybersecurity and Communications, including advisor for the Assistant Secretary for Cybersecurity and Communications and Deputy Director, Office of Emergency Communications, during which time she led the Department's efforts in establishing the Nationwide Public Safety Broadband Network.

Before joining DHS, Manfra served in the U.S. Army as a communications specialist and a Military Intelligence Officer. She holds a Bachelors from the University of Wisconsin-Madison and an MA in Strategic Studies from The Johns Hopkins University – Paul H. Nitze School of Advanced International Studies.
Christine Halvorsen
Deputy Assistant Director, Counterterrorism Division, FBI
Christine Halvorsen was appointed Deputy Assistant Director, Operational Branch II of the FBI's Counterterrorism Division in August 2016. In this position, she oversees the FBI's Domestic Terrorism investigations; visa vetting programs; communication and digital media exploitation; development of data exploitation tools; and administration of the division's budget, personnel and infrastructure.

Throughout the course of her 22-year FBI career, Halvorsen has worked a wide variety of investigative matters, including counterterrorism, cybercrime, violent crime, and HUMINT intelligence. Notably, while assigned to New York, Ms. Halvorsen initiated the FBI's first undercover operation on terrorist use of the internet.

Halvorsen is the recipient of the 2008 FBI Director's Award for Excellence in Investigative Support, and the 2012 FBI Director's Award for Outstanding Technical Achievement. Prior to her current appointment, Halvorsen served as Section Chief in the FBI's International Operations Division, with responsibility for IT program management for all of the FBI's international offices and programs as well as overseeing the division's intelligence, budget, personnel, training and all FBI overseas operations for Europe and Eurasia. Halvorsen has a BS in Computer Science from Ohio State University and a MS in Computer Information Security from Boston University.
Tom Michelli
Acting Deputy CIO for Cybersecurity & CISO, DOD
Thomas Michelli currently serves as the Acting Deputy CIO for Cybersecurity within the DOD OCIO. Michelli is responsible for ensuring the department has a well-defined and well-executed $8 billion cybersecurity program. Most recently, Michelli was the Acting Principal Deputy, CIO where he assisted the Acting DOD CIO as the primary advisor to the Secretary of Defense for Information Management, Information Technology (IT) & Information Assurance.

Prior to the DOD CIO Michelli was the CIO and Deputy Assistant Commandant, U.S. Coast Guard, for Command, Control, Communications, Computers, and IT (C4IT). Michelli joined government service in 2006 as Chief, Information Operations Division for the DTRA. He subsequently jointed the DLA in several senior leadership roles, including serving as the DLA's first Director of Intelligence. Following DLA, he was the CIO for ICE at DHS.

Prior to this government service, Mr. Michelli served at Cushman & Wakefield and General Dynamics Information Technology. Michelli joined the U.S. Army Reserve in 1984 after graduating from Franklin University and commissioning from the Ohio State University Army Reserve Officer Training Corps Program. He retired from the U.S. Army Reserves with rank of Colonel in the Engineer Corps.
John Felker
Director, National Cybersecurity & Communications Integration Center, DHS
John Felker has served as the director of the National Cybersecurity and Communications Integration Center at DHS since August 2015. In this role, he manages the NCCIC's day-to-day cybersecurity information sharing, incident response and coordination functions.

Before he joined DHS, Felker worked as director of cyber and intelligence strategy at Hewlett Packard Enterprise for two years as well as vice president of cybersecurity programs at SCI Consulting. He also spent 30 years at the U.S. Coast Guard, where he previously held various leadership positions such as deputy commander for the military service's Cyber Command and commander of the branch's Cryptologic Group that conducts signals intelligence missions as well as develop SIGINT platforms.

Felker is a recipient of the Defense Superior Service Medal, the Legion of Merit and the Meritorious Service Medal. He holds a bachelor's degree in physical education from Ithaca College and a master's degree in public administration from Syracuse University.
Stephen "Herbie" Hancock
Director of Special Projects & Prize Competition Manager, First Responders Group, OS&T, DHS
Hancock began his DHS career in December 2005 as an Acquisition & Technical Program Management SME at the Domestic Nuclear Detection Office. He then joined the ranks of DHS S&T Program Executive Office for Counter Improvised Explosive Devices as the Director for Program Integration and deputy to the PEO. Prior to this, Hancock served as the Deputy Director of Research and Development Partnerships Group. In 2011, Hancock was appointed to serve as the Deputy Director of Research and Development Partnerships Group along with simultaneously performing the duties of Director of Private Public Partnerships. Later, Hancock became the Senior Technical Advisor to the Director of the First Responders Group in DHS S&T and Director of FRG Special Projects. He is the overall lead for all matters related to Unmanned Aerial Systems for FRG and assists all FRG program managers with all business and contracting matters. Hancock is retired from the U.S. Navy as a captain after 24 years of service. He has a master's degree in Aeronautical Science from Embry Riddle Aeronautical University and a Bachelor's degree in Aerospace Engineering from Georgia Institute of Technology.
John Costello
Director, National Cybersecurity & Communications Integration Center, DHS
John Costello is currently Director, Office of Strategy, Policy, and Plans and a Senior Counselor to the Undersecretary of the National Protection and Programs Directorate. Previously, Costello served as the Director of Strategic Operations Planning and Senior Advisor to the Assistant Secretary for Cybersecurity and Communications at the Department of Homeland Security.

Prior to this, Costello was a Senior Analyst for Cyber and East-Asia for Flashpoint and as a Fellow for House Committee on Oversight and Government Reform, where he advised on tech and cyber policy and assisted the Committee's investigation into the OPM data breach. While in the U.S. Navy, John was an analyst and operations officer for the National Security Agency, specializing in foreign adversary cyber and information warfare.

Costello has been commended by the NSA, DOD, ODNI, and the Senate Select Committee on Intelligence. He is considered an expert on electronic warfare, cyber warfare, and information/cyber warfare theory, defense, and policy. Costello holds Associates of Arts degrees in Biological Sciences and Chinese Mandarin from Santa Fe College and the Defense Language Institute, respectively; and a BA from the University of Maryland University College
Matt Masterson
Sr. Cybersecurity Adviser, Election Cybersecurity Programs, DHS
Matthew Masterson joined the DHS office that coordinates the agency's election cybersecurity programs in 2018 as Sr. Cybersecurity Advisor, Office of Cybersecurity & Communications in the National Protection and Programs Directorate. Previously, Masterson served as an EAC Commissioner from December 16, 2014 until March 23, 2018. He was nominated by President Obama and confirmed by unanimous consent of the United States Senate on December 16, 2014.

Prior to the EAC, Masterson served as Interim Chief of Staff for the Ohio Secretary of State, previously serving as Deputy Chief of Staff and CIO from 2013 to 2014, as well as Deputy Director of Elections from 2011 to 2013.

Prior to the Ohio Secretary of State's Office, Masterson was Deputy Director for the EAC's Voting System Testing and Certification Program. Prior to this position Masterson joined the EAC in 2006 as a Special Assistant/Counsel to Chairman Paul DeGregorio. Masterson received BS and BA degrees from Miami University in Oxford, OH and a JD from the University of Dayton School of Law.
Goldy Kamali
Founder & CEO, Scoop News Group
Goldy Kamali is founder and CEO of Scoop News Group, the leading public sector tech media company in the country. SNG is comprised of CyberScoop, FedScoop, StateScoop and EdScoop and engages top CIOs, CTOs and CISOs from the public sector and tech community both online and in-person every single day through news, events, radio and TV. Kamali is known for her ability to bring the brightest and most influential IT leaders from The White House, government agencies, and tech industry together in innovative ways to exchange best practices and collaborate to achieve common goals. Hosting regular VIP gatherings, on top issues facing the community, she concentrates on the key IT priorities of the Administration, so they remain front and center.

Prior to launching FedScoop, Kamali spent over 12 years in leadership roles in the tech industry most recently as Executive Director of the American Electronics Association-the largest tech association in the country where she led the association's Government and Commercial Markets Group and worked closely with C-Level executives from the tech industry and government agencies.
Eric Brandwine
Deputy CISO, Amazon Web Services
Eric Brandwine is the Deputy CISO at Amazon Web Services, reports to the CISO, Mr. Stephen Schmidt and helps set the strategic direction for the organization. He is also responsible for daily oversight of the technical portions of the AWS Security organization, including security operations, application security reviews, penetration testing, and tool and software development.

Prior to starting the AWS Security team, Brandwine was one of the inventors of the network virtualization technology that powers Amazon's Virtual Private Cloud. He has been with Amazon for ten years.

Before joining Amazon, Brandwine worked as a computer scientist and systems architect for a customer in the U.S. Government. He has a Bachelor of Computer Science from Cornell University.
Bill Nelson
President & CEO, Financial Services Information Sharing & Analysis Center
Bill Nelson currently serves as President & CEO of the Financial Services Information Sharing and Analysis Center (FS-ISAC). Before FS-ISAC, a non-profit association dedicated to protecting financial services firms from physical and cyberattacks, Nelson in 2009 was elected Vice Chairman of the ISAC Council, a group dedicated to sharing critical infrastructure information with the government and across key sectors.

From 1988 to 2006, Nelson served as Executive Vice President of NACHA - The Electronic Payments Association. While at NACHA, he oversaw the development of the ACH network into one of the largest electronic-payment systems in the world, processing nearly 14 billion payments in 2005. He also oversaw NACHA's rule-making, marketing, rules enforcement, education and government relations programs. Prior to joining NACHA, he held several treasury management and lending positions within banking. Nelson holds a BA from Allegheny College.
Robby Mook
CNN Political Commentator & Former Political Campaign Strategist & Campaign Manager for Hillary Clinton
Robby Mook, a CNN political commentator, is a nationally recognized campaign manager and strategist who ran the 2016 presidential campaign for Hillary Clinton.

In 2006, he coordinated the campaigns of Martin O'Malley, who defeated incumbent Bob Ehrlich in the Maryland gubernatorial election, and Ben Cardin, who defeated Michael Steele to win the United States Senate election. Mook's successes also include the 2013 election of Virginia Governor Terry McAuliffe – the first time in 40 years that Virginians elected a governor from the same party as the sitting U.S. President – and the 2008 election of Jeanne Shaheen, New Hampshire's first woman Senator. He also was state director for Clinton's 2008 presidential primary campaign in three states where she defeated Barack Obama in the primaries. In 2012, he served as Executive Director of the Democratic Congressional Campaign Committee.

In September 2017, Mook was announced as Harvard Institute of Politics' 2017-2018 Visiting Fellow. He graduated from Columbia University in 2002 with a Bachelor of Arts in Classics.
Amie Stepanovich
U.S. Policy Manager, Access Now
Amie Stepanovich currently serves as U.S. Policy Manager for Access Now. She works to ensure that laws and policies on surveillance and cybersecurity recognize and respect human rights. At Access Now, Stepanovich manages and develops the organization's U.S. policy and leads global projects at the intersection of human rights and government surveillance.

Previously, Stepanovich was the Director of the Domestic Surveillance Project at the Electronic Privacy Information Center, where she testified in hearings in both the Senate and the House of Representatives, as well as in State legislatures. Stepanovich is a board member of the Internet Education Foundation.

She was a liaison to the American Bar Association's Cybersecurity Working Group and co-chaired the 2014 Computers, Freedom, and Privacy Conference. Stepanovich was named as a Privacy Ambassador by the Information and Privacy Commissioner of Ontario, Canada and was recognized in 2014 as one of Forbes magazine's 30 under 30 leaders in Law and Policy. She has a J.D. from New York Law School, and a B.S. from the Florida State University.
Brett Hansen
VP, Client Software & GM, Data Security, Dell
Brett Hansen is the Vice President of Data Security Solutions at Dell. In this role, he leads a virtual organization that encompasses all functions of the rapidly growing Data Security business. In addition, he oversees the product management and marketing teams for the Commercial Client security and management capabilities that differentiate Dell client devices as the "most secure and manageable" on the planet.

Hansen engages with customers, channel partners and product developers on a daily basis, leveraging his more than 15 years of experience leading business development and channel functions in the software industry. Hansen joined Dell after 12 years with IBM Software Group. His previous position within Dell was Executive Director, Product Management and Marketing, Client Solutions Software. During this tenure, he held business and product management responsibility for the software load and experience across all Dell end-user client devices.

Hansen holds a BS in Economics & History from JMU and an MBA in Marketing from the University of Montana.
Christopher Crummey
Executive Director of IBM Security X-Force Evangelism and Outreach, IBM
Christopher Crummey serves as Executive Director of IBM Security X-Force Evangelism & Outreach. In terms of IBM Security outreach, Crummey and his team provide a sense of what a cyber "Security Culture" looks like and educate customers on "Cyber Best Practices" through the first commercially built Cyber Range in Cambridge, MA and the Executive Briefing centers. He also leads a team of global Executive Security Evangelists who are leading industry experts and provide keynote presentations and demonstrations.

Crummey also leads a global team of security development experts who provide technical insight in product integration, mobility, cognitive and cloud-based security solutions. With over 25 years of IBM experience, Crummey is one of the most sought-after keynote speakers at IBM. He holds a bachelor's degree in psychology from Hobart College.
Maurice Turner
Sr. Technologist, Center for Democracy & Technology
Maurice Turner is Sr. Technologist at the Center for Democracy & Technology, a Washington, DC-based non-profit advocacy organization dedicated to ensuring the internet remains open, innovative and free. Turner focuses on the Election Security and Privacy Project identifying and updating election cybersecurity practices and infrastructure, and working through potential remedies. Turner brings a unique mix of formal education and practical work experience in technology and local, regional, and national policymaking to the Internet Architecture project.

Nearly a decade of municipal management experience is complemented by numerous private-sector technology positions, fellowships, and internships. His previous employers include the City of Newport Beach, EarthLink Municipal Networks, Center for Democracy and Technology, Coro Foundation, United Medical Center Hospital, DOT, and Apple.

After receiving a bachelor's in political science from Cal State Fullerton, he went on to earn a master's in public administration from the University of Southern California focusing on emerging communication technologies, privacy, and civic engagement. In addition, he holds a graduate certificate in cybersecurity strategy from Georgetown University.
Greg Otto
Editor-in-Chief, CyberScoop
Greg Otto is the editor-in-chief of CyberScoop, overseeing all editorial content for the website. Previously, Greg was FedScoop's technology editor, covering all of the innovative tech government is leveraging: cloud computing, mobility, cybersecurity, open source and enterprise architecture.

Previously, Greg has worked at the Washington Business Journal, U.S. News & World Report and WTOP-FM, winning an Edward R. Murrow award in 2009. Greg holds a B.A. in Journalism from Temple University.
Sean Lyngaas
Sr. Reporter, CyberScoop
Sean Lyngaas is CyberScoop's senior reporter covering DHS and Congress. He was previously a freelance journalist in West Africa, where he covered everything from a presidential election in Ghana to military mutinies in Ivory Coast for The New York Times. Lyngaas's reporting has also appeared in The Washington Post, The Economist, and the BBC, among other outlets. His investigation of cybersecurity issues in the nuclear sector, backed by a grant from the Pulitzer Center on Crisis Reporting, won plaudits from industrial security experts. He was previously a reporter with Federal Computer Week and, before that, with Smart Grid Today. Lyngaas earned a B.A. in public policy from Duke University and an M.A. in international relations from The Fletcher School of Law and Diplomacy at Tufts University.
Patrick Howel O'Neill
Reporter, CyberScoop
Patrick Howell O'Neill is a CyberScoop technology reporter based in San Francisco. Minding both Silicon Valley and Washington, D.C., Howell O'Neill covers the bridge between government and private sector in cybersecurity. At the last CyberTalks event in San Francisco, Howell O'Neill interviewed former NSA East Asia chief and current Recorded Future director Priscilla Moriuchi. Previously, he worked at the Daily Dot covering politics and technology.
Steve Rice
Deputy CIO, DHS
Steve Rice currently serves as the Principal Deputy CIO at DHS. In this role, he oversees the management, security, and sharing of DHS IT. Rice comes directly from TSA, where he served as CIO and Assistant Administrator for the Office of Information Technology. He took that role in 2013, having previously worked as Deputy CIO. While at TSA, Rice oversaw IT strategy, operations and security.

Rice's experience at HDS began in the U.S. Secret Service, where he played both intelligence and technical roles. In his nearly decade-long tenure there, Rice assisted the intelligence investigation unit that responded to the Oklahoma City bombings, managed data communication teams for several Secret Service protection events and assisted with management of telecommunications for both presidential conventions.

He has extensive experience in working within a risk based framework, leveraging federal IT cybersecurity policy and best practice while leading large complex technology modernization programs, governing multi-billion dollar IT portfolios and balancing mission enhancements across an ever evolving cyber threat landscape. Rice holds a B.A. in Business Administration & Management from Old Dominion University.
Robert Ames
Sr. Director, National Technology Strategy, VMware
Robert Ames is Sr. Director, National Technology Strategy at VMware Research where he acts as a key link between government customers with challenging missions and VMware's cutting edge Research & Development capabilities. Ames has made a career of driving innovation in government and public sector.

He was formerly at In-Q-Tel where he led several practices, creating and executing investment strategies while building deep relationships with government leaders, technology startups and entrepreneurs. Prior to IQT, Ames was Director & Deputy CTO for IBM Federal, where he worked to apply innovations from IBM's Research and Development organizations to government missions, bringing advancements in Virtualization, Automation and the early days of Cloud Computing to the Government.

IT is not Ames' first career. He started his professional life as an opera singer. As a former musician in IT, Ames is passionate about the value of alternative disciplines in delivering innovative and ground-breaking approaches to complex problems. Ames holds a B.A. and Masters in Music from Rice University.
Dr. Doug Maughan
Division Director, Industry Partnerships, Office of Innovation & Collaboration, S&T, DHS
Maughan is Director of the Industry Partnerships within the Office of Innovation & Collaboration within the Science and Technology Directorate at DHS. Maughan has been at DHS since October 2003 and his research interests and related programs are in the areas of networking and information assurance. Dr. Maughan has been responsible for helping bring to market over 40 commercial and open-source information security products during the past 12+ years while at DHS and he is the Senior Executive responsible for the DHS Silicon Valley Innovation Program.

Prior to his appointment at DHS, Maughan was a Program Manager at the Defense Advanced Research Projects Agency (DARPA). Prior to his appointment at DARPA, Maughan worked for NSA as a senior computer scientist and led several research teams performing network security research.

Maughan received Bachelor's Degrees in Computer Science and Applied Statistics from Utah State University, a Master's degree in Computer Science from Johns Hopkins University, and a Ph.D in Computer Science from the University of Maryland, Baltimore County.
Tommy Gardner
CTO, Federal, HP
Tommy Gardner is CTO for HP Federal, spanning the U.S. federal agencies, higher education, K–12 education, state and local government customer segments, and federal systems integrators. His responsibilities include technology leadership, strategic technology plans, product and technology strategies, sales force technical support, and customer and partner relationships.

He was previously CTO for Jacobs Engineering, Scitor, and ManTech, and earlier in his career was a senior technical executive at Raytheon. In the Dept. of Navy, as Deputy for science and technology for the Chief of Naval Research, he oversaw the Deep Submergence Program and Advanced Technology Program, and commanded the nuclear submarine USS San Juan (SSN 751).

Gardner holds a BS in mechanical engineering from the U.S. Naval Academy, a Master's in public administration from Harvard University, an M.S. in management of technology from MIT, and a Ph.D in energy economics from George Washington University.
Tim Bennett
Program Manager, S&T Airborne Technology, OS&T, DHS
Tim Bennett has over 30 years of experience managing, designing, manufacturing and testing intelligence, surveillance and reconnaissance (ISR) and signal intelligence (SIGINT) systems for manned and unmanned airborne systems. He started his career at NRL working on communication programs like the Classic Wizard. His recent accomplishments include leading the design and manufacturing of the Universal Ground Control Systems used to control the Gray Eagle, Shadow, Hunter and Orion UAS. Also, as the Product Director, he lead the effort for the design, manufacturing and testing of Orion UAS that holds the long endurance record of 80 hours for continuous flight, with the ability to fly several more days without refueling.

Bennett joined the DHS Security Science & Technology Directorate in 2015 where he was the Deputy of the Program Executive Office for Unmanned Aircraft Systems (UAS). He currently leads manned and unmanned airborne research and technology transfer to the U.S. Coast Guard and CBP for the Borders and Maritime Security Division (BMD) of the DHS Science and Technology Division.
Angela Stubblefield
Deputy Associate Administrator for Security & HAZMAT Safety, FAA
Angela Stubblefield is the Deputy Associate Administrator for the FAA's Security and Hazardous Materials Safety office. Stubblefield has 25 years expertise in threat analysis, emergency operations planning, hazardous materials safety, national security policy, and investigations oversight.

Since 2001, Stubblefield has held positions in FAA, TSA, and the Office of the Secretary of Transportation. In addition to working across Lines of Business in FAA, she routinely collaborates with the National Security Council and executive departments and agencies to resolve complex national security, safety, and crisis-response challenges.

Stubblefield has a B.A in Government and Philosophy from the University of Virginia. After graduating, she became an active duty United States Marine and worked for the U.S. Marine Corps as a civilian intelligence analyst before joining the FAA. She also earned a M.A. in Transportation Policy, Operations, and Logistics from George Mason University School of Public Policy.
Donna Dodson
Chief Cybersecurity Adviser, NIST
As NIST's Chief Cybersecurity Advisor, Donna Dodson provides leadership and vision for all cybersecurity research programs at NIST. She is the primary technical expert and management advisor for cybersecurity for NIST as well as the Department of Commerce and is a key cybersecurity leader for the Administration and the Nation. Dodson also serves as the Director of the National Cybersecurity Center of Excellence.

In addition to her extraordinary technical and leadership skills, Dodson is a consummate team builder who works tirelessly to find the benefits to all parties involved. These skills have been vital in the successful development of solutions to complex national challenges in cybersecurity.

Since joining NIST in 1987, Dodson has been selected as a Fed 100 winner for innovations in cybersecurity, as one of the top 10 influential people in government IT in 2011, and as one of FedScoop's Top 50 D.C. Women in Tech.
Grant Schneider
Federal CISO & Sr. Director, National Security Council, Executive Office of the President
Grant Schneider serves as the Federal CISO and Sr. Director for Cybersecurity Policy on the National Security Council staff. In these roles, Schneider leads teams of cybersecurity experts who develop and oversee crosscutting policies to enhance the nation's cybersecurity. He and his staff seek to improve the nation's cybersecurity in three ways: enhancing the overall defensive posture of federal and critical infrastructure cybersecurity; leveraging the expertise of the U.S. intelligence community to mitigate threats to federal cybersecurity; and leading an effective and efficient response to Federal incidents.

Prior to joining the White House as cybersecurity adviser to the Federal CIO in 2015, Schneider served for seven years as the DIA's CIO.
Donald Heckman
Principal Director & Deputy CIO for Cybersecurity, DOD
Donald Heckman is the Principal Director, Deputy CIO for Cybersecurity at the DOD OCIO. Heckman is responsible for ensuring the department has a well-defined and well-executed cybersecurity program. He is responsible for coordinating cybersecurity standards, policies and procedures with other federal agencies, coalition partners and industry.

Heckman began his career at NSA in 1983. He has served in a variety of technical and management positions over his career, including project engineer, program manager and manager up to Deputy Directorate level. He is a key leader who has a deep technical knowledge of all aspects of the Information Assurance mission. He has received numerous awards from the Defense, and Intelligence communities in recognition of his vision, leadership, and accomplishments including the Meritorious Presidential Rank Award in 2017. He was appointed to the Senior Executive Service in October 2005.

Heckman graduated from Johns Hopkins University with a Master of Science degree in Electrical Engineering and he received a B.S. degree in Electrical/Computer Engineering from Drexel University.
Brian Dastur
Acting Section Chief of the Cyber Readiness Section, FBI
Brian Dastur currently serves as the Acting Section Chief of the Cyber Readiness Section at the FBI. In this role, he leads the FBI Cyber Division in a multitude of complex computer and data science matters, and identifies and evaluates strategic opportunities.

Prior to this role, Dastur spent 20 years as the Technical Lead for the FBI's Insider Threat Center, where he also coordinated with the Intelligence Community and DOD programs to assess current and future insider threat technologies.

Dastur earned a Bachelor's degree in Mathematics from the University of Illinois at Chicago.
Daniel Prieto
Strategic Executive, Public Sector, Google Cloud
Daniel Prieto is a Strategic Executive for Public Sector at Google Cloud. He is also an adjunct Senior Research Scholar at the School of International and Public Affairs at Columbia University. Before coming to Google, Prieto served as an external Sr. Advisor to McKinsey & Co.

From 2014-2017, Prieto served in the White House as Director for Cybersecurity Policy on the staff of the National Security Council. From 2013-2014, he served in the Office of the Secretary of Defense as the CTO in the DOD OCIO, where he led the Defense Industrial Base Cybersecurity and Information Assurance program and helped lead technology industry outreach and IT cost reduction and modernization initiatives.

From 2006-2013, Prieto was a VP at IBM. From 2007-2008, he served as Sr. Advisor to the Congressionally-chartered independent Commission on the National Guard and Reserve. In 2003-2004, he helped stand up the Committee on Homeland Security in the U.S. House. Previously, he was at J.P. Morgan and AOL. He has held fellowship appointments at Harvard University, Stanford University, the Council on Foreign Relations, and the Center for Strategic and International Studies. Prieto received his M.A. from the School of Advanced International Studies at Johns Hopkins University and his B.A. from Wesleyan University.
Scott Tousley
Mission & Capability Support, S&T, DHS
Scott Tousley is a Program Manager, at S&T within DHS.

His responsibilities include organizational liaison, IPT management and support, and project leadership for educational/operational efforts such as the Computer Security Incident Response (CSIRT) project. He also supports several initiatives in critical infrastructure protection and cyber-physical systems.

Tousley served 20 years as an Army officer in the Corps of Engineers, many of these years in interagency technology programs. He lead the Watch/Warning program in the FBI as part of the National Infrastructure Protection Center, part of the Clinton Administration's early engagement with national cyber security challenges.

He has served nine years with DHS, principally with S&T but also with the Domestic Nuclear Detection Office and supporting Customs and Borders Protection.