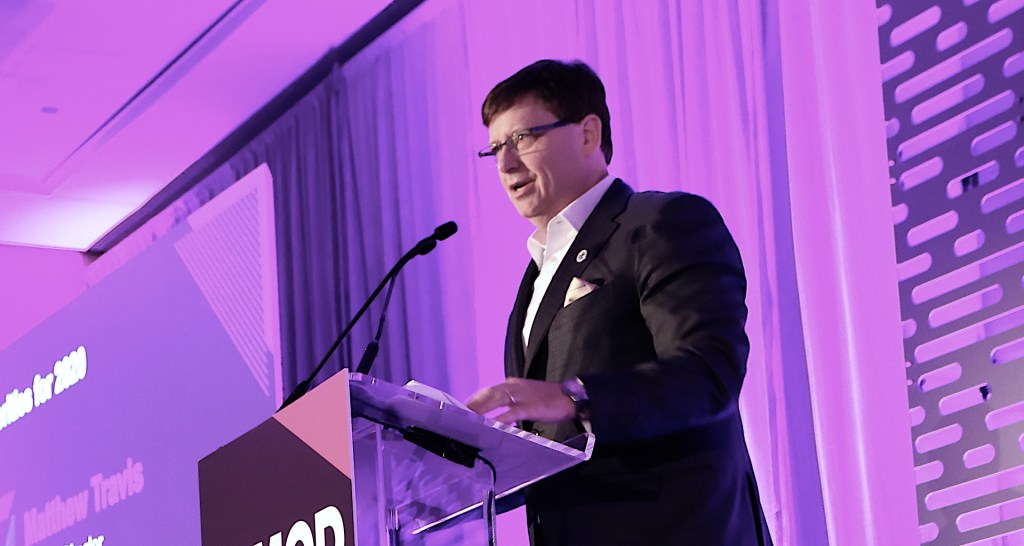 Krebs' former deputy condemns violent rhetoric from Trump campaign
Matt Travis, the former deputy director of CISA, made some of his first public comments on Tuesday since his resignation. Travis detailed the pressure he said the White House put on the Department of Homeland Security's cyber unit in the aftermath of the election, and deplored a violent threat from a Trump campaign lawyer against his former boss, ex-director Chris Krebs. President Trump has nonetheless shown no sign of relenting his efforts to challenge the legitimacy of the election. Sean Lyngaas has the story.
A Message From AWS Educate
With over 1,500 institutions and hundreds of thousands of students who use AWS Educate, we wanted to take you on a trip around the world and highlight how students are learning and innovating with the cloud. Learn more.
Ga. election official calls on president to stop attacks
A Georgia election official says President Donald Trump's attacks on the integrity of voting systems have made him "complicit" in a rising tide of harassment and death threats against election workers. Gabriel Sterling, the voting systems implementation manager in the office of Secretary of State Brad Raffensperger, said "the straw that broke the camel's back" was a series of social media threats since Monday against a "20-something" technician working for Dominion Voting Systems, which supplies Georgia's voting equipment and has been the subject of baseless conspiracy theories promoted by Trump and his team of lawyers. "I've got police protection outside my house," Sterling said. "Fine, I took a higher-profile job. I get it. The secretary ran for office. This kid took a job." Benjamin Freed has the story at StateScoop.
US alert urges think tanks to be on guard for foreign hacking activity
Think tanks should be on high alert for nation-state hacking attempts in the coming days, the FBI and CISA warned Tuesday. The joint alert notes the groups are primarily going after think tank employees that focus on national security and foreign policy — a key part of the pool of talent that President-elect Joe Biden will draw from as he builds his circle of advisers. Espionage groups have long targeted prominent think tanks, particularly when the U.S. presidency is changing hands and foreign nations want to glean information about what the new administration's policies might be. Shannon Vavra has more.
Researchers: Surveillance firm exploits SS7 vulnerability on behalf of repressive regimes
At least 25 governments around the world are likely working with the private surveillance firm Circles, which exploits mobile network weaknesses to snoop on voice calls, texts and phone locations, according to the University of Toronto's Citizen Lab. Circles is an affiliate of the Israeli spyware vendor NSO Group. Some of its likely clients, like Thailand and the United Arab Emirates, have a history of human rights abuses. Circles' product exploits vulnerabilities in Signalling System No. 7, a set of protocols used by telecommunications carriers to route calls, and leave no digital trace of its presence on a phone. Tim Starks explains the report.
A magnum opus from a Google Project Zero researcher
Twitter was abuzz Tuesday with praise for Google Project Zero analyst Ian Beer's massive, spirited and highly detailed account of how he developed a powerful tool for breaking into nearby iPhones. Six months of work on a vulnerability in the Apple Wireless Direct Link (AWDL) technology led to a "wormable radio-proximity exploit which allows me to gain complete control over any iPhone in my vicinity," Beer writes. "View all the photos, read all the email, copy all the private messages and monitor everything which happens on there in real-time." AWDL is used in features like AirDrop, when one Apple device is in proximity of another. Joe Warminsky has more.
Manchester United hack just the tip of the iceberg
You don't hear much about hacking affecting the sport sector, but a recent cyberattack against one of the world's most famous soccer teams is no aberration. Seventy percent of sporting organizations surveyed by UK authorities have experienced at least one "attack" per year. Big clubs, whose operations are in the limelight, are a natural target for crooks. And the Olympics always seems to draw state-sponsored attackers. Sean dives in.
Game over for Nintendo hacker
A 21-year-old California man was sentenced to seven years in prison for stealing proprietary data from Nintendo, and for possessing child pornography. After an early encounter with police as a teenager for malicious cyber activity, Ryan Hernandez told FBI agents he wouldn't do it again, according to a DOJ announcement. He instead went on a hacking spree against Nintendo servers that ultimately landed him behind bars. Sean has this one, too.
Tweet Of The Day