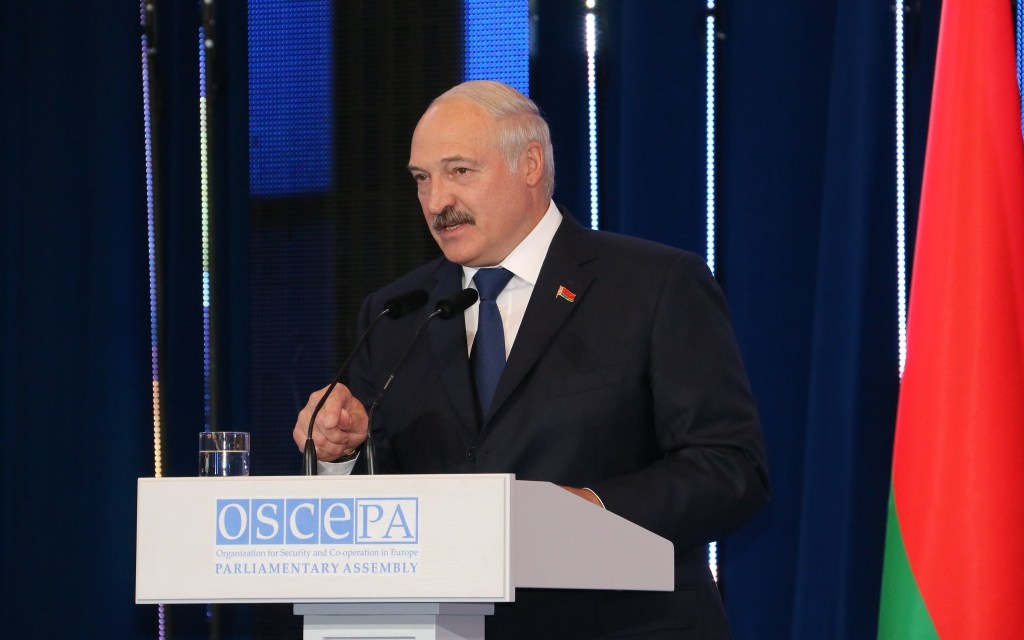 It looks like Belarus is throttling Twitter, VPN services
Belarus' violent crackdown on protests following the re-election of an authoritarian leader also appears to include widespread internet blackouts and traffic throttling on major websites. Twitter confirmed it was being blocked through much of Belarus, an announcement that following reports that VPN services and some 50% of foreign web traffic also went out. It's an apparent attempt by the authoritarian President Alexander Lukashenko to curb the demonstrations that aim to end his 26 rules in power. Jeff Stone has more details.
A Message From AWS Educate
With over 1,500 institutions and hundreds of thousands of students who use AWS Educate, we wanted to take you on a trip around the world and highlight how students are learning and innovating with the cloud. Learn more.
It's never about the crime, it's about the cover-up
A nonprofit group filed suit against Zoom for allegedly misrepresenting its data protection capabilities. San Jose-based Zoom claimed to utilize end-to-end encryption when it did not, and failed to disclose that it had servers in China, which could allow the Chinese government to access information about unwitting Zoom customers. The case only is the latest complaint against Zoom for its shoddy security practices at a time when it's enjoyed explosive growth. The Washington Post has the exclusive.
Why voter registration systems are such a tempting target for hackers
While ransomware has long troubled state and local governments at large, it has become a more acute fear for election administrators in the run-up to this year's presidential election. Last month, a federal cybersecurity consultant warned county leaders that a ransomware attack could lock officials out of their voter registration databases or encrypt the websites where unofficial results are posted. Now, ransomware specialists are explaining what could happen if attackers strike the right government network around Nov. 3. Benjamin Freed has more at StateScoop.
It always comes back to cryptocurrency
At one point this spring, a single set of money-hungry hackers controlled nearly a quarter of the endpoint infrastructure through which the anonymizing internet browser Tor routed traffic, a researcher who tracks Tor claimed this week. The unidentified attacker likely used those Tor "exit relays" — the IP addresses through which Tor traffic passes — to manipulate the traffic and mine cryptocurrency, said the researcher, who goes by nusenu. How much bitcoin the attackers were able to generate, if any, remains unclear. Sean has more.
Lawyer up
Three years after enacting one of the most exacting cybersecurity regulations in the United States, the New York State Department of Financial Services recently filed its first cybersecurity enforcement action. This enforcement action shows the importance of mitigating legal risks when addressing cybersecurity risks. The timing of the NYDFS's inaugural enforcement action shows that cybersecurity remains a key priority for government agencies, even during the COVID-19 pandemic. Private litigants are increasingly prosecuting cybersecurity claims, too. While we await the results of the NYDFS's hearing, Charles J. Nerko and Daniella Casseres have three key lessons that can be learned. Read more here.
Financial disputes roil cybercriminal forums
Is there no honor among thieves? A close look as the escrow systems that scammers use to regulate payments for hacking tools shows that transactions are rife with fraud. Administrators on a Russian-speaking cybercriminal forum admonished an influential user early this year for failing to pay a serious debt after the user commissioned work on a hacking tool. The case unfolded much like a financial dispute in the real world, with forum leadership intervening to avoid undercutting trust in the black market. It's the latest example of dark web drama uncovered by the threat intelligence firm Digital Shadows. Read the research here.
Leave the libraries out of this, won't you?
A ransomware attack against Blackbaud, a cloud company that provides IT services to a huge range of educational organizations and nonprofits, also has hit local libraries. Hackers already used a foothold in Blackbaud to hit the U.K.'s Labour Party, public radio stations throughout the U.S. and dozens of universities (that we know of). Now it seems to be spreading through libraries, like the Buffalo and Erie County Public Library, to access names, addresses and other data about donors. The Buffalo News explains.
Tweet Of The Day