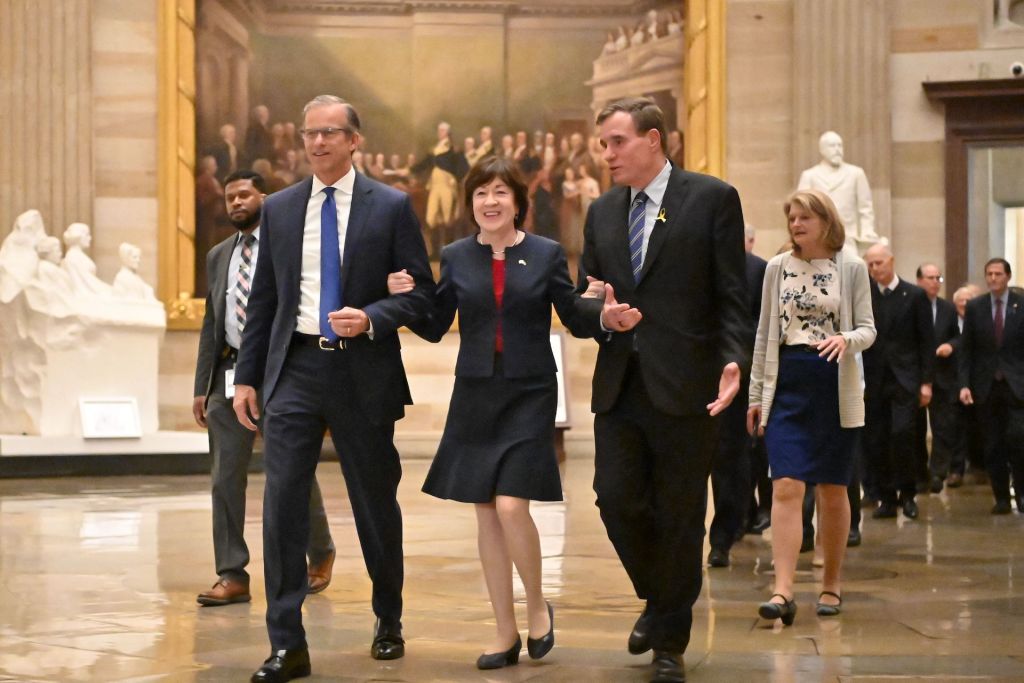 Key senator managing IC concerns about cyber provisions in antitrust bill
Senate Intelligence Committee Chairman Mark Warner, a Virginia Democrat, has been in steady contact with the Office of the Director of National Intelligence (ODNI) to manage concerns within the intelligence community about how a heavily-contested antitrust bill could imperil cybersecurity, according to two sources with knowledge of the outreach. The bill's sponsors have said they hope the American Innovation and Choice Online Act gets sent to the floor for a vote soon. The sources CyberScoop spoke with suggested some people within ODNI have felt pressured by key senators to "sign off" on the bill in a bid to address concerns many legislators have about how the bill could impact cybersecurity and national security more broadly. A Warner spokesperson declined to comment. Asked about whether it felt pressured by legislators to sign off on the bill, ODNI issued a statement which indicated the intelligence community will not be formally weighing in because it does not do so "on the merits of policy options." Suzanne Smalley has the scoop.
A Message From AWS Educate
With over 1,500 institutions and hundreds of thousands of students who use AWS Educate, we wanted to take you on a trip around the world and highlight how students are learning and innovating with the cloud. Learn more.
Former top election security official decries the 'lunacy'
An exasperated Chris Krebs took to Twitter Tuesday to say that the push from former Trump associates to "seize" voting machines after the 2020 election to prove a sweeping conspiracy to rig the election was "lunacy." Krebs, the former director of the Cybersecurity and Infrastructure Security Agency whom President Donald Trump famously fired by tweet for daring to point out election disinformation, tweeted that the fact that this line of thinking was pushed by Trump's associates in the Oval Office was "harrowing." Krebs said he and his then-colleagues worked to report on election interference ops from Iran and Russia in real time only to be "stabbed in the back by our own leaders. By a bunch of grifters and charlatans." Read the thread.
'Veil of misinformation' chases election officials' 2020 successes
Nearly two years after a presidential election widely hailed as the most secure and error-free in history, the officials who oversaw voting in their states continue to be hounded by misinformation and disinformation about the process, several speakers said Monday at an event in Washington. "Elections in 2020 were extremely smooth, highly secure," Michigan Secretary of State Jocelyn Benson said during a panel discussion hosted by the Center for Election Innovation & Research, a nonpartisan group that advises election administrators around the country. "Our story is one of great success. The other story is the veil of misinformation." Baseless claims and conspiracy theories about the expansion of absentee voting during the pandemic and the equipment used to count ballots have continued to fester since the 2020 election and the Jan. 6 assault on the U.S. Capitol by people seeking to overturn former President Donald Trump's loss. The falsehoods have often morphed into threats agains election officials, highly partisan ballot reviews and even attempts by election-office insiders to tamper with equipment. Benjamin Freed has the rest at StateScoop.
Over 4,000 confirmed ransomware incidents in 2021, task force says
A report published Wednesday by the Institute for Security and Technology's Ransomware Task Force says that its data sources counted more than 4,000 documented attacks last year involving varieties of extortion malware, targeting organizations across every sector in 109 countries. The data comes a few weeks after the one-year anniversary of the task force, a group of more than 60 public-sector and industry experts whom last year drafted a book of recommendations for the U.S. government to take against what they called a rising global threat. The incidents the Ransomware Task Force includes in its latest publication include attacks traced to more than 60 different criminal outfits. And while the attacks span geography and industry, nearly half affected victims in the United States, and 70% targeted organizations with fewer than 500 employees. Ben has this one, too.
Booz Allen launches venture capital fund to invest in 'disruptive technology' for federal agencies
Booz Allen Hamilton has launched a venture capital arm that will invest $100 million in early-stage businesses with the potential to provide "disruptive technology" to federal agencies. Booz Allen Ventures operates as a standalone unit and will invest funds on behalf of the federal contracting giant in startups innovating across the areas of defense, artificial intelligence/machine learning, cybersecurity and deep technology. The launch of the fund comes amid increasing pressure from Congress for federal agencies to work with the U.S. private sector to accelerate AI innovation. A keystone report from the National Security Commission on Artificial Intelligence last year called for the government's AI research and development budget to be increased to $32 billion per year by 2026. Read more from FedScoop's John Hewitt Jones.
Tweet Of The Day