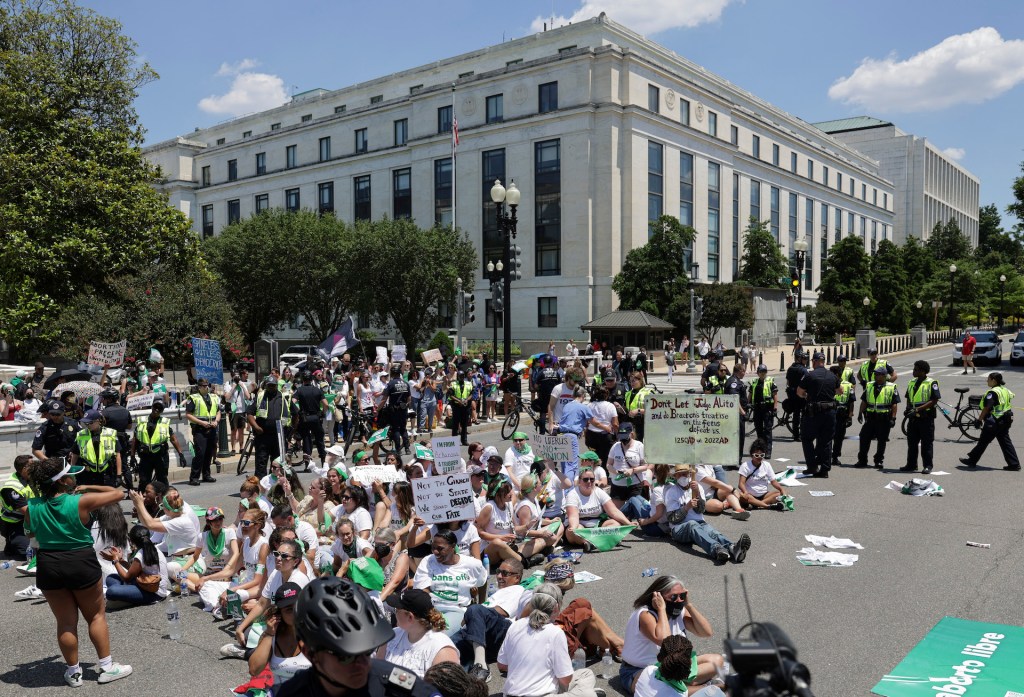 Abortion disinformation is growing and dangerously divisive, experts say
A tweet from Rep. Marjorie Taylor Greene that urgently directed her nearly 1 million group of followers to remove Defense Department leadership for what she called an "insurrection" against the Supreme Court by Secretary Lloyd Austin is a textbook case for how disinformation spreads, experts said. DOD leadership never said anything about flouting the court's decision; Austin simply pointed out that the agency would study a potential DOD exemption to banning abortions in cases of rape, incest and where the mother's life is in danger. Disinformation focused on abortion is rampant — and dangerous, said Stanford University scholar Herb Lin. Suzanne Smalley has the story.
A Message From AWS Educate
With over 1,500 institutions and hundreds of thousands of students who use AWS Educate, we wanted to take you on a trip around the world and highlight how students are learning and innovating with the cloud. Learn more.
Marriott dealing with another data breach
An unidentified hacker managed to trick an employee at the BWI Airport Marriott in Baltimore into giving up access to a computer, which led to the attacker gaining access to as much as 20 gigabytes of data, the company confirmed to CyberScoop Tuesday. The attackers told Databreaches.net, a site focused on data breaches and cybercrime that first reported the news Tuesday, that they infiltrated the computer, acquired data about a month ago and then sought payment, but the hotel chain didn't comply. The company confirmed that version of events and said it would be notifying 300-400 people whose data was potentially compromised. AJ Vicens reports.
CISA instructs federal agencies to address Microsoft bug
The Cybersecurity and Infrastructure Security Agency gave agencies until July 22 to address a Microsoft security bug hackers could exploit to take over a Windows domain, in guidance issued Friday. Agencies must apply Microsoft's June 2022 patch, which detects anonymous connection attempts and disallows them, to all Windows endpoints. Find out more from FedScoop's Dave Nyczepir.
Justice Department identifies disrupting ransomware, cyberattacks as key objective in strategic plan
The Department of Justice said Friday that it will make disrupting ransomware attacks and prosecuting cybercriminals a key objective as part of a new strategic plan. In a statement, the department said it intends to beef up its cybersecurity technological capabilities and to more aggressively pursue those who put U.S. government information or assets at risk. FedScoop's Nihal Krishan covered it.
Cyber incident reporting law takes effect in Virginia
A new law that took effect in Virginia last week requires the commonwealth's agencies and local governments to report cybersecurity incidents within 24 hours of detection. Senate Bill 764, which passed the Virginia General Assembly with near-unanimous support in March and was signed by Gov. Glenn Youngkin the following month, requires every public body in the state to report all events that compromise data security, expose protected information or disrupt IT systems to the Virginia Fusion Intelligence Center, an interagency operations center led by the Virginia State Police. Get the rest from Benjamin Freed.
Rhode Island governor signs bill allowing internet voting
Rhode Island Gov. Daniel McKee last week signed legislation that could allow some of the state's registered voters to cast their ballots over the internet, despite concerns raised by election officials and critics of electronic voting. The new law, S2118, calls for giving deployed military service members, citizens residing overseas and people with physical disabilities the ability to receive and submit their ballots online. While the legislation passed the Rhode Island General Assembly earlier this year with comfortable margins, it raised criticisms from election-security advocates who've long said that submitting votes over an internet connection could imperil the secret ballot. Another one from Ben.
Tweet Of The Day