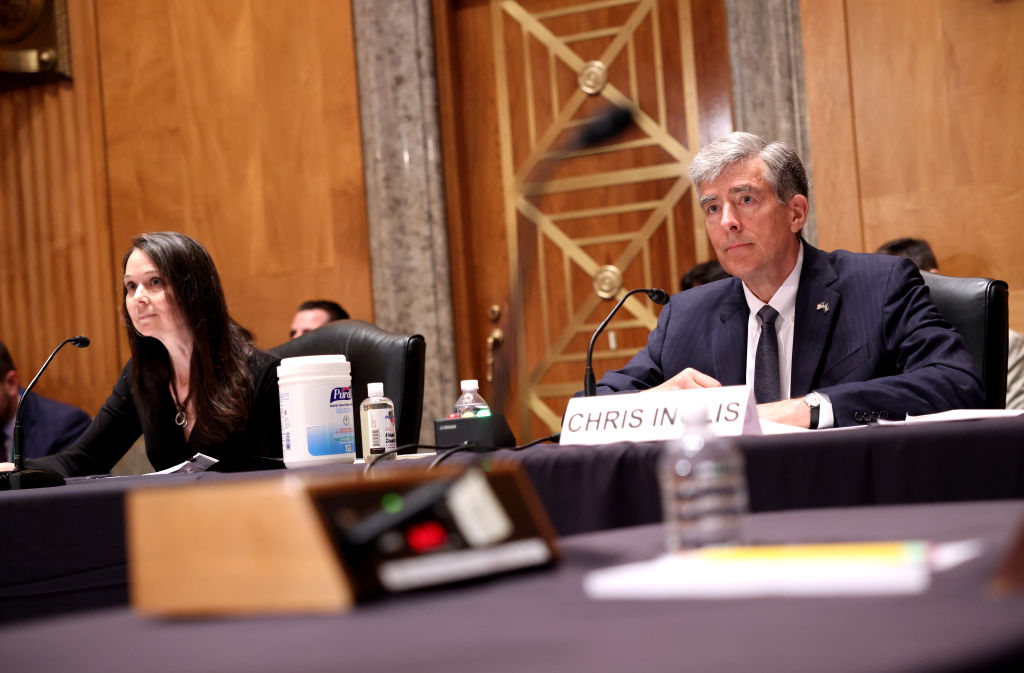 The White House has a new cyber czar
The Senate on Thursday confirmed Chris Inglis as White House cyber director. Inglis takes on the role as the United States faces a mounting number of cybersecurity challenges, including ransomware attacks against critical industries. Inglis will be in charge of implementing cyber policy and strategy, including Biden's recent executive order mandating improved security for software used by the federal government. The role was passed into law by Congress in last year's defense budget authorization and was recommended by the Cyberspace Solarium Commission. Tonya Riley has more.
A Message From AWS Educate
With over 1,500 institutions and hundreds of thousands of students who use AWS Educate, we wanted to take you on a trip around the world and highlight how students are learning and innovating with the cloud. Learn more.
Bill proposes 24 hour notification period
Senate Intelligence Chairman Mark Warner is sharing draft bipartisan legislation that would require critical infrastructure owners, cybersecurity incident response firms and federal contractors to report cyber intrusions to the Homeland Security Department within 24 hours. It's one of the earliest bills to respond a spate of attacks that began with the SolarWinds breach and continued on through the Microsoft Exchange hack and ransomware incidents at Colonial Pipeline and meat supplier JBS. It won't be the last, either in the House or Senate. Tim Starks unpacks the news.
Vigilante hacking campaign aims to stop piracy?
A wave of malicious software downloads from October 2020 to January 2021 blocked users from visiting websites that host pirated versions of video games, Microsoft Office and other programs, analysts at antivirus firm Sophos said Thursday. One malware strain borrowed name recognition from The Pirate Bay, a notorious portal that directs users to copyrighted material while also serving up malicious software and nefarious advertisements. The vigilante disguised their malicious code as pirated software on Discord, a popular chat service, and on file-sharing service BitTorrent, Sophos said in a blog post. Sean Lyngaas explains the impact.
Snapchat stalker used stolen passwords to torment students
A New York City man admitted to accessing more than 300 Snapchat accounts to steal victims' nude pictures as part of a cyberstalking case that ensnared at least 14 people. David Mondore, 29, pleaded guilty to hacking-related charges for orchestrating a scheme in which he would solicit explicit photos from college students by impersonating their friends. The fraud, in which Mondore would dupe Snapchat users into providing their passwords, represents only the latest example of ways that scammers exploit otherwise innocuous social media relationships to harass, abuse and torment unwitting users. Jeff Stone has the details.
State, local officials tell Senate they 'really need' cyber grants
A group of state and local officials told members of the Senate Homeland Security Committee on Thursday they're very interested in dedicated cybersecurity grants to support their agencies, even as the prospects for such a program remain unclear. The hearing came after Homeland Security Secretary Alejandro Mayorkas raised the percentage of grant funding distributed to state and local governments by the Federal Emergency Management Agency that must be spent on cybersecurity. Even with the increase, the actual dollar amount available for cybersecurity remains low, and it competes with other priorities, said Karen J. Huey, the assistant director of the Ohio Department of Public Safety. Benjamin Freed has more at StateScoop.
Ex-NASA scientist imprisoned for 'long-running deception'
A U.S. judge sentenced a former NASA nanotechnologist, suspected of giving Chinese nationals access to its facilities, to 30 days in prison Wednesday for lying to federal agents about working at a Chinese research university. Meyya Meyyappan, 66, served as chief scientist for exploration technology at the Center for Nanotechnology at NASA's Ames Research Center, until he was caught lying to the FBI and NASA Office of Inspector General about being a visiting professor at Soochow University for an estimated $1.4 million over five years. FedScoop's Dave Nyczepir has more on the case.
Tweet Of The Day