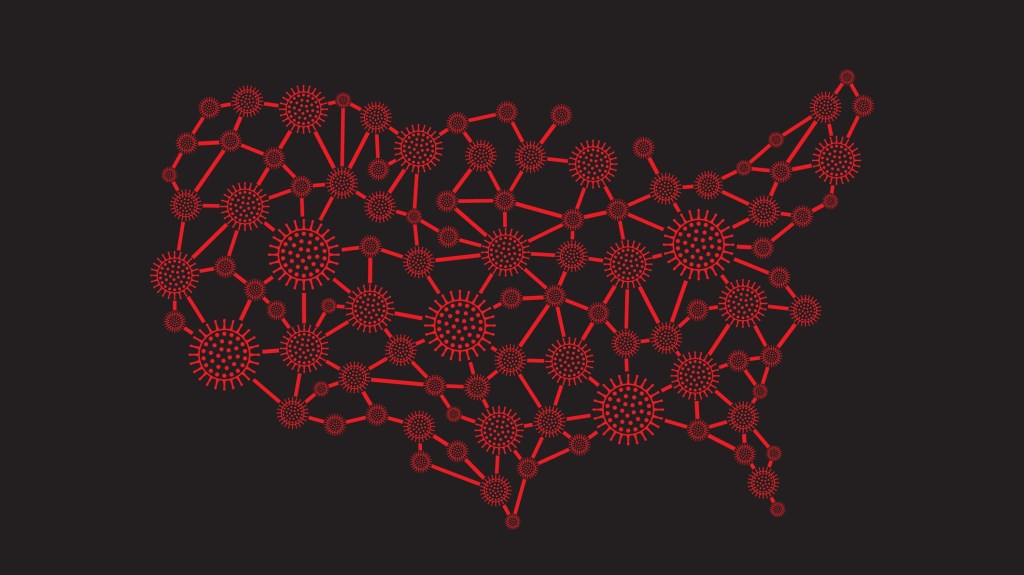 Here's the latest coronavirus misinfo campaign
For the past six weeks, an Iranian influence operation has pushed cartoons and fabricated news articles suggesting the U.S government committed bioterrorism by using the coronavirus as a way of attacking China and Iran, according to Graphika. The propaganda group known as IUVM is behind a series of headlines and animated cartoons reporting, for instance, that COVID-19 is part of "a biological war led by Trump to strike at China's economy." Facebook and Twitter have removed IUVM-affiliated accounts dating back to 2018, though the latest effort again demonstrates how propagandists are using Western technology services to amplify disinformation. Jeff Stone has the story.
A Message From AWS Educate
With over 1,500 institutions and hundreds of thousands of students who use AWS Educate, we wanted to take you on a trip around the world and highlight how students are learning and innovating with the cloud. Learn more.
The latest advisory on North Korean hacking
The Department of Homeland Security, U.S. Treasury, State Department, and FBI issued a joint advisory Wednesday morning meant to raise awareness about North Korean state-backed hacking. The bulletin details North Korea's history of running cyber-enabled financial heists and highlights which campaigns the U.S. government has attributed to Pyongyang. But now the U.S. is seeking more information. The State Department says will award up to $5 million to tipsters who pass on information about North Korean activities in cyberspace. The move comes after U.S. Cyber Command has spent months attributing North Korean-related malicious cyber activity, although no new malware was shared as part of the advisory. Read the full explanation.
The Pentagon keeps missing deadlines
A Government Accountability Office report released Monday details how the U.S Department of Defense missed several deadlines to implement a number of security updates, and highlights a critical lack of accountability among department leadership. Much of the report is an update on the department's lack of progress on recommendations from three prior initiatives. All three remain incomplete or have an unknown status due to a lack of oversight, the report found. The watchdog recommends that the Pentagon's chief information officer take action and improve cyber training. The report said without "decisive action," the DOD is left with a substantial risk of a successful cyberattack. FedScoop's Jackson Barnett has more context.
Siemens discloses a batch of new vulnerabilities
Industrial giant Siemens on Tuesday disclosed a number of vulnerabilities in its products. For industrial control systems experts, one stands out: a flaw in a popular module used to route data to and from an industrial facility's control room. Under the right conditions, an attacker with network access could gain full control of the device and alter data being sent from a field device. It's the sort of issue that a researcher from Idaho National Laboratory exploited during a red team exercise at a utility company. Siemens has issued a patch for the vulnerability. Here it is.
Dems angle for cyber cash
Top Democrats on the House Homeland Security Committee said that Congress' next emergency relief bill in response the COVID-19 pandemic should include funding for cybersecurity assistance to state and local governments. The letter asserts that many public sector employees are working from home, likely from personal devices, and may not be taking the security precautions necessary for safeguarding government data. A sudden shift to widespread telework has gone more seamlessly for some governments than for others, especially as workers are thrust into using new tools they were not familiar with in their office environments. Benjamin Freed has more at StateScoop.
Transparency can be a hacker's best friend
If we were to see a repeat of 2016, where would hackers conduct their homework? They could look no further than the Federal Election Commission, whose website illustrates how tough it is to balance transparency and security. In a new op-ed, Director of Cofense Labs and Cofense Intelligence Joshua Bartolomie shows that hackers can take advantage of open data to launch their own attacks. Transparency is essential to democratic elections. But security is also important to the integrity of the process, and Joshua writes on how to balance both. Read the full op-ed here.
A Brazilian hacking tool hits Spanish banks
The Brazilian cybercriminal world is teeming with hacking tools designed to fleece the financial sector. It's a problem that's plagued South America's biggest country for years, and now there's more evidence it's spilling over borders. Researchers this week documented the migration of a banking trojan with Brazilian fingerprints to Spain, where criminals have gone after customers from 10 major banks. The source code of the Brazilian and Spanish versions of the malware was largely the same, meaning the original perpetrators are likely involved somehow, researchers say. Sean Lyngaas has the details.
Coronavirus fraud exceeds $13 million
Americans have reported $13.13 million in fraud-related losses to scammers who have exploited the COVID-19 pandemic, according to new figures from the U.S. Federal Trade Commission. The 17,425 overall reports, submitted between Jan. 1 and Monday, April 13, mostly originated with fake travel refunds ($4.7 million) and online shopping ($1.8 million). But scammers are using a range of techniques to get between people and their money: mobile text messages, robocalls and posing as real businesses. Coronavirus is only the most recent conversation topic. Here are the numbers.
Tweet Of The Day